Corey and I are in the process of buying a block of land down the coast from where we live now. It means we will be able to build a house we love with everything we need including a studio for me and be a 5 minute walk from the beach, but we will have to move out of our house around the same time the baby is due. Not ideal and with all the extra expenses we have decided to make each other Christmas presents this year.
Problem is Corey  is really handy and makes incredible furniture and picture frames so I know I'll be getting a pretty cool prezzie. I on the other hand am shocking when it comes to DIY, crafting or generally making anything that isn't food. Seriously for our wedding I tried so hard to add personal touches with little felt hearts that I sewed, but they were so bad our wedding decorator strategically placed them out of sight.
So I'm going to stick to what I know best and get cracking in the kitchen with some homemade relishes, chutneys and jams which I know he will love. Here are some more ideas of homemade Christmas gifts to compliment the festive season and show that special person you really care without breaking the bank.
10 Festive Gifts with Heart Ideas
Chocolate Buckwheat Muesli

Homemade Nutella

Rosemary and Sea Salt Grain Free Crackers

Tomato Chilli Jam

Homemade Apple Sauce

Brownie Mix in a Jar

Cranberry and White Chocolate Bark
//Chocolate Buckwheat Granola
Ok you know how I said I'm not really into breakfast cereals? Well this is my exception. Wether you enjoy it in the morning or as an afternoon snack be warned… it is addictive. Your friends are going to love receiving a big jar of this yumminess.

Chocolate Buckwheat Granola
Author:
The Luminous Kitchen
Recipe type:
Breakfast Cereal
Ingredients
3 cups rolled gluten free oats
1 cup buckwheat
1 cup coconut flakes
1 cup hazelnuts, roughly chopped
¼ cup chia seeds
½ cup sunflower seeds
½ cup pepitas
½ tsp sea salt
¼ cup coconut/rapadura sugar
⅓ cup honey
⅓ cup coconut/grapeseed oil
1 tsp vanilla powder/paste
½ cup cacao powder
Instructions
Preheat the oven to 180C
In a large bowl combine the oats, buckwheat, coconut flakes, hazelnuts, seeds, sea salt, vanilla powder and coconut sugar and stir to combine.
Melt the coconut oil in a small saucepan over medium to low heat, then add the honey and cacao powder. Whisk until smooth.
Pour the liquid over the dry ingredients and mix until evenly coated.
Line a baking sheet with wax-proof paper then turn the mixture out and press evenly and firmly into the baking sheet using the back of a spoon until it is compact.
Bake for 18 minutes then remove from the oven and using a spatula, flip the granola. Return to the oven and bake for a further 12 minutes, stirring every 3 minutes until the granola is toasted, then remove from the oven and allow to cool.
Store in an airtight container.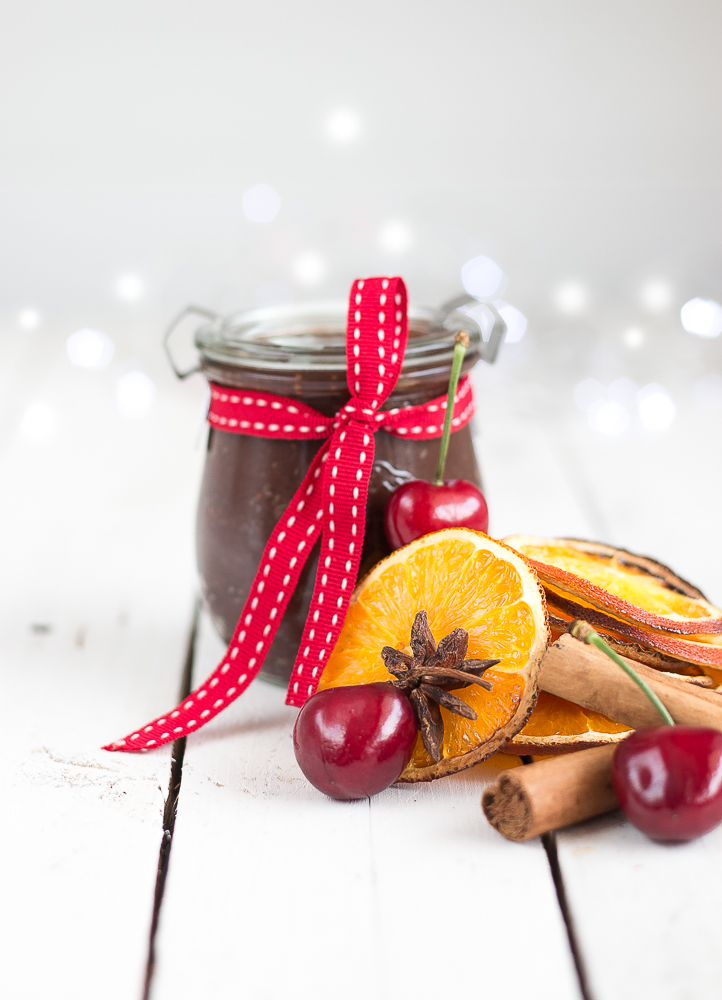 // Homemade Nutella
This is so simple to make and unlike the store bought stuff it has no refined sugar or nasties in it. I challenge you not to eat it straight from the jar!

Homemade Nutella
Author:
The Luminous Kitchen
Ingredients
1 ½ cups hazelnuts
½ tsp vanilla paste
pinch of salt
3 Tbls coconut oil
2 Tbls honey
⅓ cup cacao powder
½ cup water
Instructions
Preheat the oven to 170C
Spread the hazelnuts out on a baking sheet and roast in the oven for 15 minutes, until the shells start to crack.
Remove from the oven and pour the hazelnuts out onto a clean tea towel. Rub them in the tea towel to remove the skins. ( There will be some skins remaining and thats ok as long as the majority are removed.)
Add the shelled hazelnuts to a food processor along with the vanilla paste, salt, coconut oil and honey and process for 3 minutes. ( You may need to scrape down the sides from time to time).
Add the cacao powder and water and process until smooth.
// Rosemary and Sea Salt Grain Free Crackers
Even if you don't make these to giveaway, do yourself a favor and make a big batch of them to keep in the cupboard because I don't know about you, but there are cheese boards a plenty in our house when we are entertaining and if you want to avoid processed crackers, these are a great alternative.

Rosemary and Sea Salt Grain Free Crackers
Author:
The Luminous Kitchen
Recipe type:
Festive Gifts with Heart
Ingredients
3 Tbls tahini paste
1 Tbls coconut oil
1 egg
2 Tbls sesame seeds
2 sprigs rosemary (leaves picked from the stems)
½ tsp sea salt flakes
½ tsp ground black pepper
2 ½ Tbls coconut flour
Instructions
Preheat the oven to 170C
Combine the tahini paste, coconut oil, egg, sesame seeds, rosemary, salt and pepper in a bowl and mix well.
Add the coconut flour and mix until a thick "dough" forms.
Turn the mixture out onto a 40cmx40cm piece of wax proof paper and using your hands, pat into a disc shape.
Cover with another piece of wax proof paper the same size and roll out the dough to about 3mm.
Discard the top piece of paper, then using a sharp knife, cut the dough into vertical and horizontal lines. Keeping it in tact on the wax proof paper, place the dough on a baking sheet
Bake on the middle shelf in the oven for 12 minutes. Remove the outer crackers as they start to brown first, then return the baking sheet to the oven to cook for a further 3 minutes, until the rest of the crackers are a lovely golden colour.
Place the cooked crackers on a cooling rack and once cool, store in an airtight container.
There was an issue loading your timed LeadBox™. Please check plugin settings.
There was an issue loading your exit LeadBox™. Please check plugin settings.
Related Posts via Categories