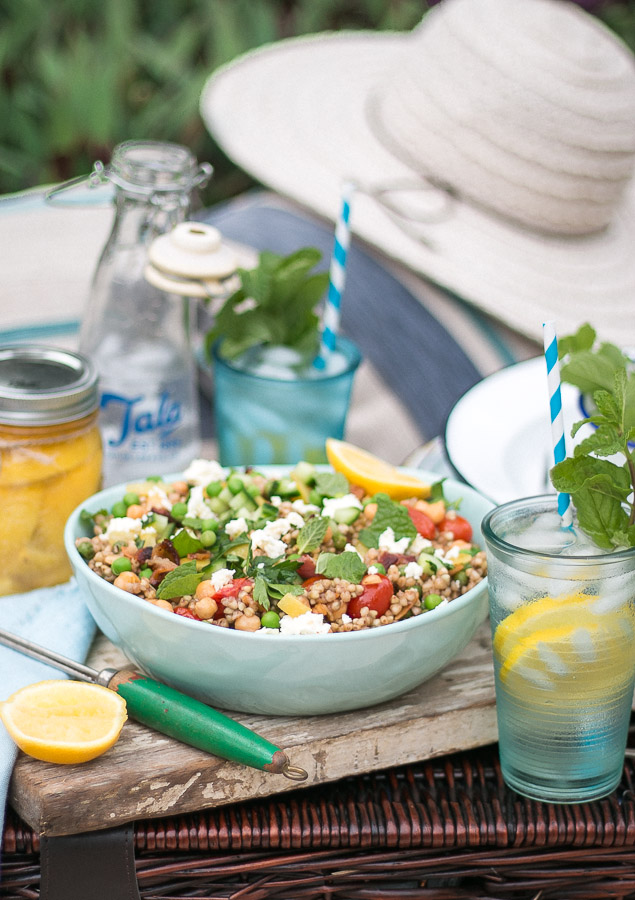 If you follow me on Instgram you'll know that about two weeks ago I attempted Katie Quinn Davies's Apple, Ginger and Blueberry Pie. Now hers looks like a pie you want eat with your hands and by the fistful, my gosh it is beautiful and mine… well … have you seen those Pinterest Fails?… that's how mine turned out.
Pastry is just not my strong suit.
I tried another recipe from her gorgeous cookbook, the Fregola Salad and it was so delicious, but fregola is a type of pasta, much like Israeli couscous and made with wheat flour so in order to make it a gluten free dish I thought I would try it with buckwheat and it worked beautifully.
---
A little while back I did a post on How To Make Preserved Lemons and I have had loads of emails from you wanting to know how to use them. I guess I totally took it for granted  because I eat them with everything from salads to smoked salmon to straight out the jar…. is your face twisted up right now thinking about the sourness? I just love them and this salad is a perfect way to enjoy preserved lemons. Another way is in a beautiful risotto.
If you don't have preserved lemons on hand you can add some lemon zest and a bit more lemon juice to bump up the lemon flavor.
Corey and I ended up eating it for lunch, dinner and then lunch again just adding in some ingredients to change it up. We added sun dried tomatoes for one meal and sautéed butternut for another.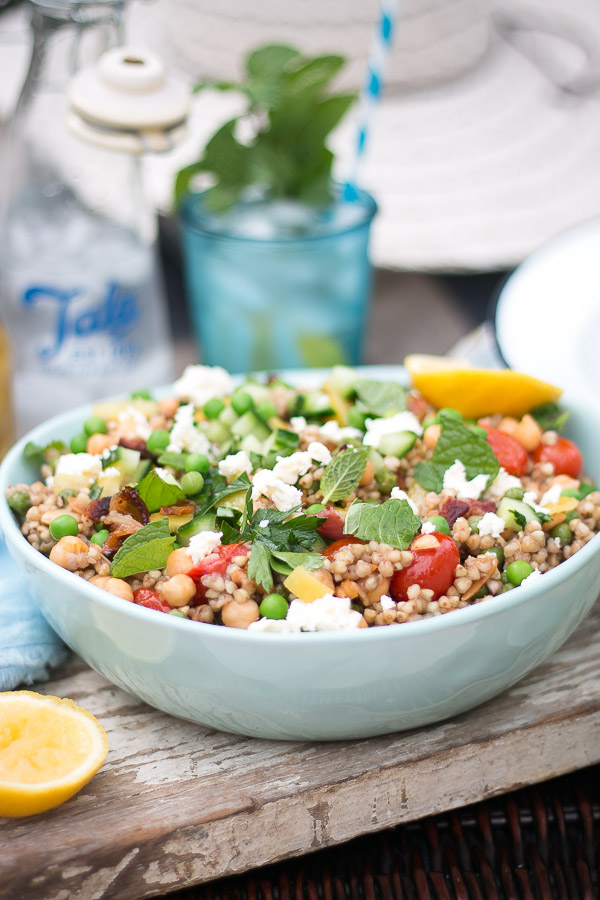 Italian Buckwheat Salad
Author:
The Luminous Kitchen
Ingredients
1.5 cups buckwheat
1 onion finely diced
olive oil
3 cups vegetable stock
1 tsp smoked paprika
juice of 1 lemon
½ cup almond slivers, toasted
5 rashers streaky bacon or pancetta
1 punnet cherry tomatoes
1 preserved lemon
½ cucumber de-seeded and finely diced
1 can chickpeas, drained
¾ cup frozen peas
1 handful Italian flatleaf parsley finely chopped
1 handful mint leaves torn
80g feta cheese
salt and pepper to taste
Instructions
Heat the oven to 190C
Saute the onions in a little bit of olive oil in large, deep frying pan until tender, then add the buckwheat and allow to toast slightly in the pan for 1-2 minutes, all the while giving it a good stir.
Add the stock, cover and allow to simmer for 10 minutes, stiring now and again.
Meanwhile line a baking dish with foil and lay out the bacon on one side and the cherry tomatoes on the other. Bake in the oven for 10 minutes. The cherry tomatoes may need to be removed before the bacon and set aside. You want the bacon to be nice and crispy.
Once the bacon is done, remove from the oven, allow to cool slightly and chop into small pieces.
Check on the buckwheat, you may need to add a little more water while it cooks for another 8 minutes. You want it to be slightly undercooked because buckwheat tends to become mushy when over cooked. Once all the liquid is absorbed and the buckwheat still has a very slight crunch to it, it is ready. Set aside to cool.
While the buckwheat is cooling bring a small pot of water to the boil. Add the peas and allow to cook for 3 minutes then remove them from the heat, strain the hot water and place some ice cubes over them so the cooking process is stopped. (The peas retain their vibrant green color this way.
When the buckwheat is cooler drizzle some olive oil and the juice of 1 lemon over and season with salt and pepper.
Add the rest of the ingredients and mix .
Serve along side a summer BBQ as a fresh and flavor packed side or enjoy on its own.
There was an issue loading your timed LeadBox™. Please check plugin settings.
There was an issue loading your exit LeadBox™. Please check plugin settings.
Related Posts via Categories