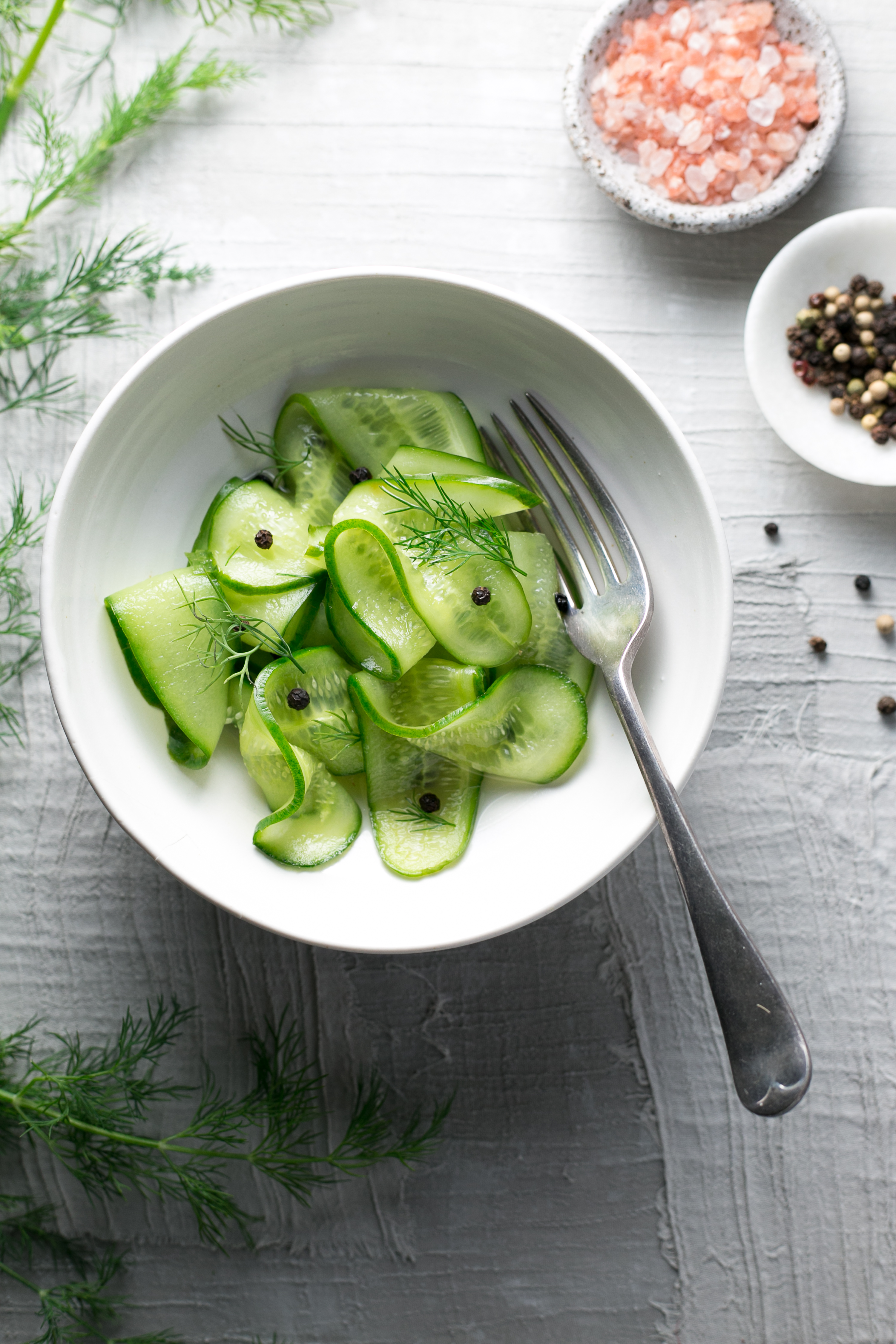 I'll admit I was super skeptical when Corey started slicing up a mountain of red onions. "You're making what?" Well it turns out pickles of any form are so easy to make yourself. With a basic pickling recipe you can pickle just about anything from radishes to onions to cucumbers. We stopped there, but I'm positive you could pickle almost any vegetable you want. For a while there we had a fridge full of jars of pickled goodies which went into every meal in various forms.
We had these pickled onions as side with some fish that Corey caught and they went so perfectly with the flaky white fish. I also ate it by the mouthful with cheddar cheese and with my boiled eggs every morning.
We had the radishes as a side with breakfast too and in our lunch time salads and the pickled cucumbers well those were pretty good on their own or as always on homemade burgers in lettuce leaves ( a standard dinner in our house)
This basic pickling recipe is enough for 2 onions, 6 lebanese cucumbers or a bunch of radishes. You can add extra flavorings like  coriander seeds, caraway seeds, fresh dill or dried chillies depending on what you are pickling. Don't be shy on the flavorings you add. You can't really mess up a pickling recipe once the right balance of acidity and sweetness is achieved.
This is a quick pickle recipe. By that I mean a way you can lightly pickle something right before eating it. It isn't for long term pickling where you have to use sterilized jars and further sterilize the finished product in a waterbath so it can be kept for months so with that in mind it is best to consume refrigerated for no longer than 2 weeks.

Pickels
Author:
The Luminous Kitchen
Ingredients
½ cup lemon juice
3 Tbls fine castor sugar
½ tsp Himalayan rock salt
1 Tbls black peppercorns
Instructions
Slice your pickling vegetables really thinly using a mandolin.
Combine the pickling ingredients and stir until well combined and dissolved.
Toss the vegetables in the brine and set aside to use immediately or refrigerate until needed.
Use within 2 weeks.
There was an issue loading your timed LeadBox™. Please check plugin settings.
There was an issue loading your exit LeadBox™. Please check plugin settings.
Related Posts via Categories