Working around the Mediterranean on yachts I could always find preserved lemons, in fact they were a staple on my shopping list, but I am yet to find some in the shops here in Australia and I am missing me some salty, syrupy, preserved lemony goodness.
Traditionally, preserved lemons are used in North African dishes like Moroccan tagines but what a way to jazz up even the simplest of meals. Think couscous with chopped dried apricots, toasted pinenuts, coriander and preserved lemon ..hhhhhmmm delish.
I missed the farmers markets over the weekend so I took a drive around the neighbourhood in search of a lemon tree because it really is best to use smaller, organic, unwaxed lemons. I found one and after knocking on the door with no one home I very inconspicuously (with the scissors that just happened to be in my gigantic handbag) nabbed a few gorgeous lemons. There were plenty left on the tree and imagine their delight when I take them a jar of their lemons and lovely and preserved.
So there are a few things to keep in mind when preserving lemons:
+Again, always use organic, unwaxed lemons
+Give them a good scrub to remove any dirt
+Sterilize the jar well
+ They only get better with age so if you can, wait at least 1 month before use, but waiting a year gives the best results.
How To Make Preserved Lemons
Ingredients
8 small lemons
8 black peppercorns
2 bay leaves
100g-200g coarse salt
Instructions
Sterilize 1 wide mouth jar and set aside to cool.
Scrub the lemons under cold running water then pat dry.
Cut a deep cross in each lemon about ¾ deep then using a teaspoon tightly pack 2 teaspoons of salt into the slits.
Add the lemons 1 by one to the jar covering each one with an additional 2 teaspoons of salt and really packing them tightly into the jar.
Add the juice of 2 lemons and fill with boiling water to the top.
Add the peppercorns and bay leaves and seal tightly.
Store in a cool, dark place for at least 1 month. You may have to gently shake the jar for the first few days until all the salt has dissolved.
Once opened, refrigerate.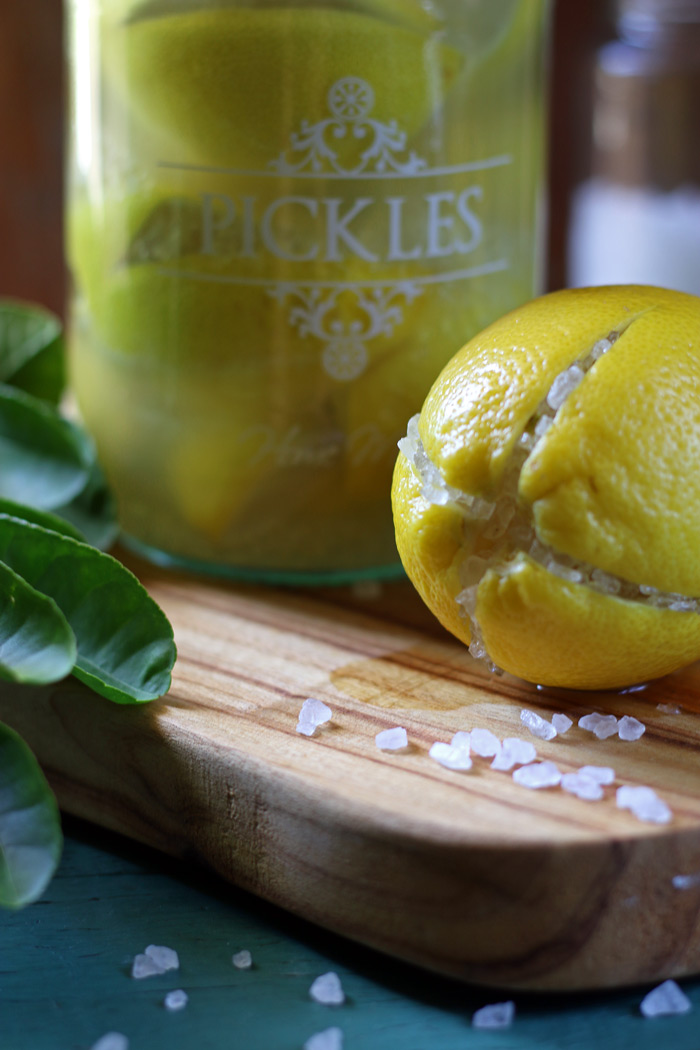 There was an issue loading your timed LeadBox™. Please check plugin settings.
There was an issue loading your exit LeadBox™. Please check plugin settings.
Related Posts via Categories