Waiting for our bub to arrive is good for one thing… lots of pinning on Pinterest. Most days you can find me under the fan pinning away because to tell you the truth it's really hard to get down to work on anything when you are wanting to go into labour at any minute.
So there I was sitting around just pinning and I felt the urge to be way more productive. The first pin I saw was for a citrus shortbread recipe from the William-Sanoma blog and coupled with my afternoon sugar craving (damn I need to get that under control) I got up ( I want to say at lightning speed, but lets face it at 91/2 months pregnant nothing I do is at speed) and I got cracking in the kitchen making shortbread for the fam.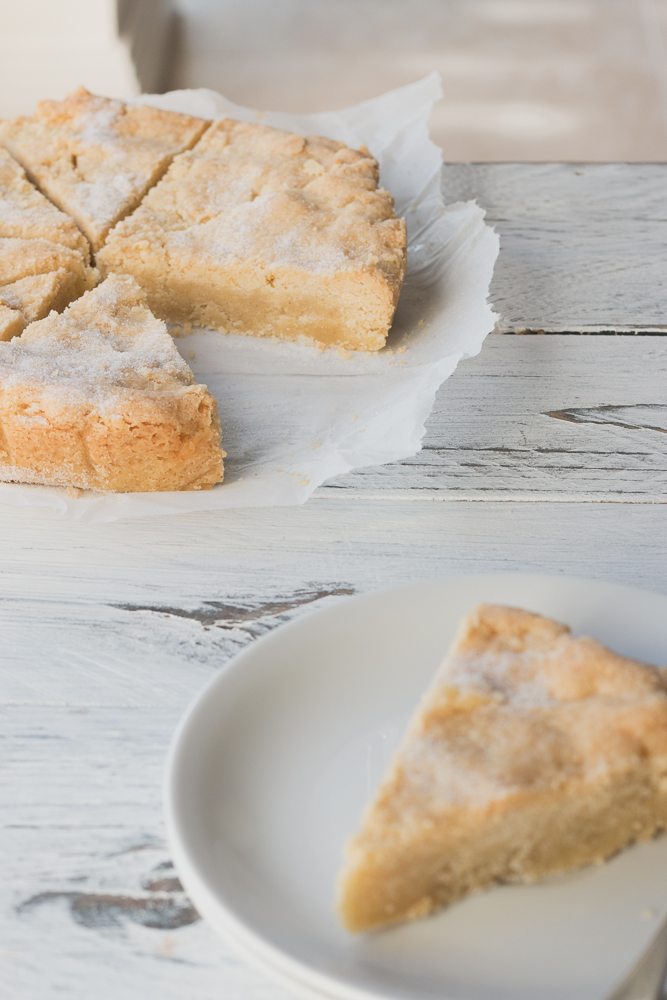 I'm a fan of plain old shortbread. No need to change that buttery flavor with anything but a good pinch vanilla and with just 4 ingredients, this recipe is super easy to make.
Of course if you would like to roll the dough out and bake smaller shortbread biscuits instead of wedges you can, but remember to adjust the baking time and make it shorter the dinner you roll the dough.

Vanilla Shortbread
Author:
The Luminous Kitchen
Ingredients
2 cups plain flour
¾ cup sugar (plus a little more for dusting)
½ tsp vanilla powder
1 cup cold, unsalted butter, diced
Instructions
Preheat the oven to 165C
Line a round cake tin with baking paper so the sides hang over
Combine the flour, sugar and vanilla powder in a food processor and mix until evenly combined.
Add the butter cubes and process until a crumbly dough begins to form, then turn the mixture out onto a floured surface and gently bring together.
Press the dough evenly into the lined cake tine and then bake in the oven for 40-45 minutes or until it starts to brown slightly.
Remove from the oven and allow to cool on a cooling rack. It will become more biscuit like as it cools. Dust with a little sugar before cutting into wedges.
There was an issue loading your timed LeadBox™. Please check plugin settings.
There was an issue loading your exit LeadBox™. Please check plugin settings.
Related Posts via Categories