Life is a series of moments and as we find our way, we collect stories. I'm a big open hearted sharer. I love telling stories and when I learned how to use a camera I loved how I had another way  to share, to take people on a journey, to show the world as I see it. If you've read my About page you'll know The Luminous Kitchen is about how food brings people together. Its about savoring not just food, but life too. Food finds its way into our stories. It's not just what nourishes our bodies, it nourish our souls too. I recently watched this TED talk by world renowned food photographer Penny De Los Santos and I cried because in a few words she summed up what it is about food that makes me so passionate.
Food connects us. It allows us to peel away at our differences and find a common language. Food is the most honest and simple expression of who we are.
I cried because I'm emotional at the best of times, but she ignited a spark deep within me. I love styling and taking photos of food, but when combined with telling visual stories of people and their food culture it lights me up in an entirely different way.So, high on Penny's inspirational talk  I want to tell you the story of these crayfish and my home country.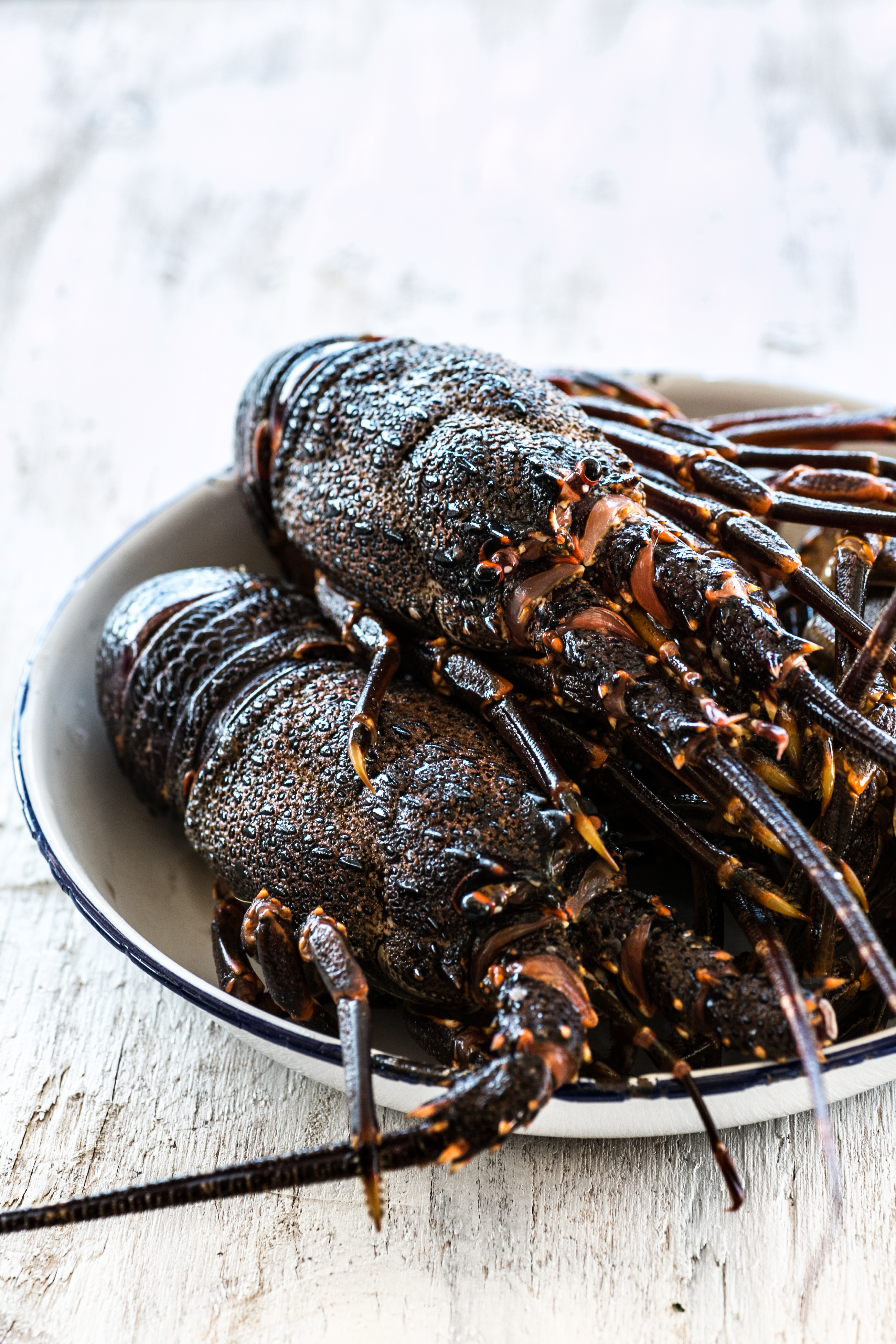 Corey, Marley and I just spent 5 weeks in South Africa with my family during which we celebrated Corey's 30th birthday. I found this incredible accommodation on Airbnb 2 hours north of Cape Town up the West Coast in a little fishing town called Paternoster. The West Coast of South Africa is a barren, wild place ( I've written about it before here) and at this time of year it is dry, dusty and stark. As you drive over the dusty hills into Paternoster it looks like a little oasis set amongst the scorched and rugged coastline. Paternoster is one of the oldest fishing villages on the West Coast and it is home to a small community of subsistence fishermen. Every day these men go out deeper and deeper, braving the rough, freezing Atlantic ocean to fish for Snoek and Crayfish that have been pillaged by Chinese trawlers. They sell what they can on the beach to eager tourists in the holiday months and what doesn't sell at a premium price ( which is still crazy cheap in AUS$)on the beach  is sent to the factory in the next town over.
The skippers launch the boats right on the beach and from where we were staying in our sea shack we could literally watch the fishermen hard at work hauling nets and catching crays. When they have their quota for the day they bring the boats back onto the beach where crowds of people wait to see their catch. Some of the skippers do their own dealing, but most of the time there is a crayfish dealer on the beach to help you get what you want. Most tourists want the bigger crayfish and they'll wait as each boat comes in to see the size of their crays, but bigger certainly isn't better when it comes to crayfish. The medium sized ones are the sweetest and best ones to eat. We bought our 6 and went back to the eco resort where we were staying.
The view from our sea shack was incredible. At night all you could hear was the trickle of the water lapping over the rocks as the tide came in.
At the eco resort there was an open communal kitchen so we cooked the crayfish ( took a few quick photos) and ate the tails right out of the pan, doused in garlic and lemon butter and looking out over  the very bay where they had just, a few hours before been caught. With each bite I tasted memories of holidays by the sea in the wild and vibrant country that I still call home while creating new stories with my little Aussie family.
Marley has such an adventurous spirit and I want to nurture that side of her. I want her to appreciate other people's culture and ways of life. I want her to appreciate good food and where it comes from. For her to do that, we need to and that means seeking out the stories, finding the farmers, the growers, the fishermen, the people who dedicate their life to providing sustenance for others and not just picking up a packet on the supermarket shelf. Sure that has it place, we're all busy people, but I want her to know a different side to the prepackaged version of food that mainstream subjects us to.
I'll take her back here as she gets older and teach her about these men who risk their lives on the ocean every day to support their families and provide us with some of the best seafood in the world.
You see food is a part of who we are. Its a part of our culture, our rituals and our history and I would be honored to share those stories.

The Freshest Crayfish Tails in Lemon Butter
Author:
The Luminous Kitchen
Ingredients
4 medium crayfish
100 g butter
splash of olive oil
2 cloves garlic
1 lemon
1 Tbls salt
salt and pepper
Instructions
Bring a large pot of water to the boil. Add a tablespoon of salt and stir to dissolve.
Add the crayfish to the water whole and boil for 6-7 minutes depending on the size ( we used medium sized crayfish)
While the crayfish are boiling prepare a bowl of ice cold water.
Once the crayfish have finished boiling, place them in the ice slurry to stop the cooking process.
Once cooled remove the tails, cut the underside of the tail, crack the shell open and remove the meat. Cut the tails in half length ways so you have 8 pieces.
Heat a pan over medium to high heat. Add a splash of olive oil then the butter ( the olive oil prevents the butter from burning). Once the butter has melted add the garlic and fry until tender and fragrant then add the tails, squeeze with lemon and keep basting them with butter for roughly 4 minutes. You don't want to overcook them.
Season with salt and pepper and serve.
There was an issue loading your timed LeadBox™. Please check plugin settings.
There was an issue loading your exit LeadBox™. Please check plugin settings.
Related Posts via Categories