I am melting most days here on the Gold Coast and it's only the start of November… I'm scared for January's heat when I'm about to pop. Yep it's creeping closer and closer and most days I swing between wishing I could sleep without having to get up to pee in the middle of the night and praying for something stronger than Rennie's to deal with the heartburn to  feeling so unbelievably grateful for this special time when me and baby are essentially one.
Now I know some of you in Europe and the States are freezing your tooshes off right now and are wanting winter warmer recipes, but I'm sorry – fresh, crisp, cool and simple is where it's at for us down under right now and crispy skinned salmon with chermoula sauce is hitting the spot big time.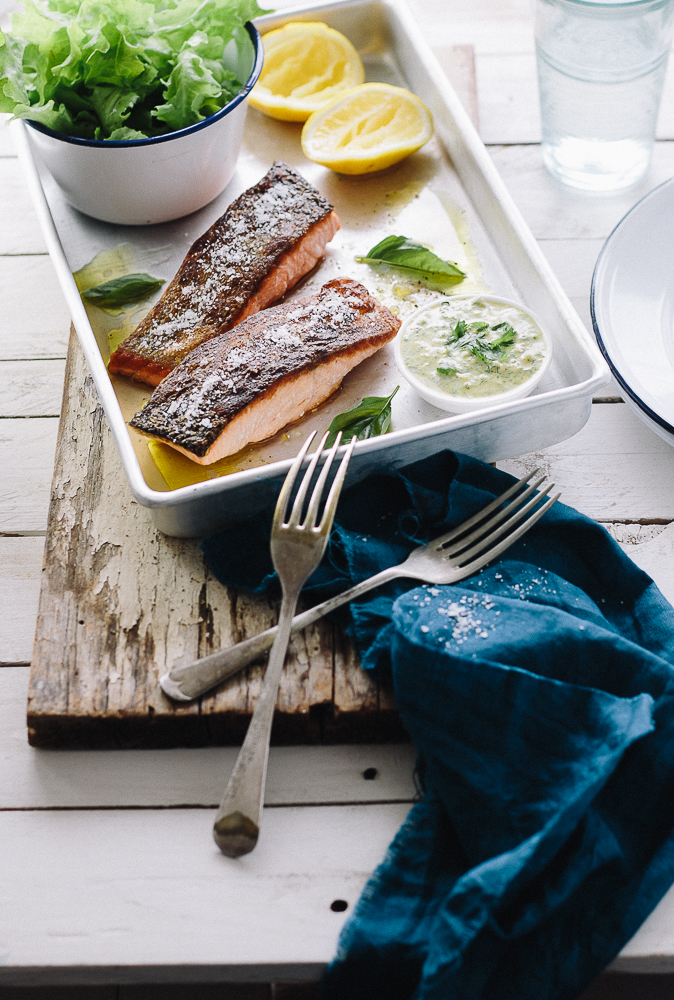 Let's chat chermoula. It's traditionally a marinade used in Moroccan, Algerian and Tunisian cooking, however I've combined it with Greek yogurt to turn it into a delicious sauce that cuts through the richness of the salmon. Recipes for chermoula vary greatly but most include 2 key ingredients: garlic and coriander. After that a combination of oil, lemon juice and spices like cumin, chill and turmeric all feature in varying quantities.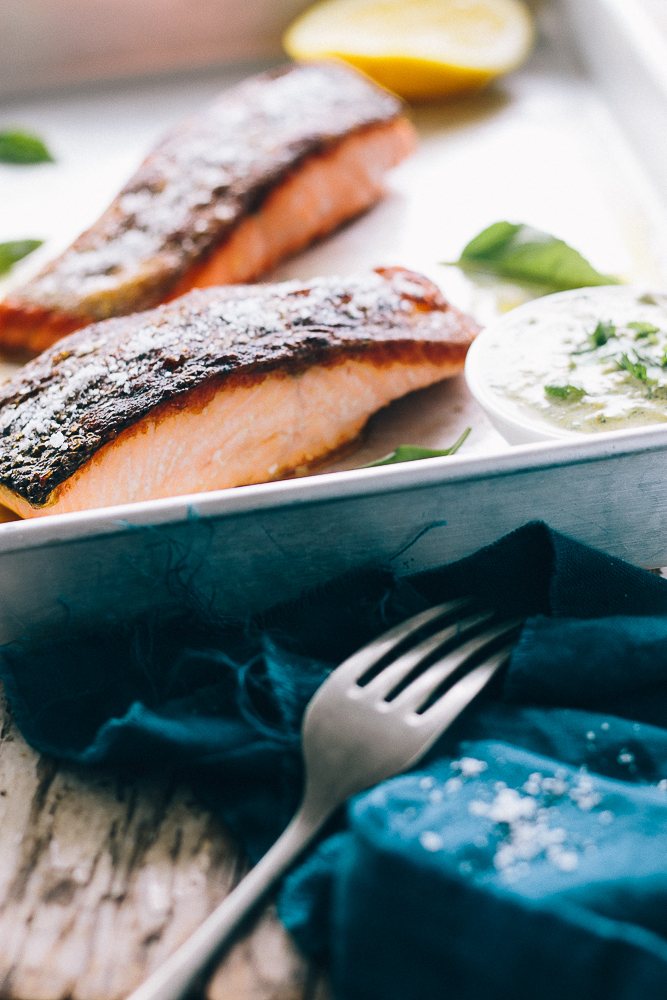 Getting salmon skin to crispy perfection is not hard, but it can also be easy to mess up. Marc Fosh, a Michellin star chef in Spain, once told me at a cooking demo that the key is to oil the fish and salt the pan – the salt creates a barrier so the skin doesn't stick to the pan. Nothing worse than trying to flip a beautiful piece of salmon and it comes apart because the skin is sticking to the pan. On the other hand with a great non-stick pan you shouldn't have a problem.
Salmon fillets are thicker on one side than the other so you could make light scores in the thicker side so that it cooks evenly and doesn't shrink up when placed in the pan and cook unevenly. I prefer to place a can from the pantry on each fillet to prevent it from shrinking up in the middle. Another tip is to just leave it alone – once you have placed it skin down in the pan and weighted it with a can, don't touch it for at least 3 minutes. You will be tempted to see if it is turning golden, but you must resist.
Let's put this into easy steps:
Heat a non stick pan over medium heat ( if the heat is too high the skin will char)
Oil the skin of the salmon
Sprinkle some salt flakes in the pan then place the fillet in the pan skin side down. Weight it down with a can. (It may look strange and you will have to wash your cans after, but I promise it makes a difference.)
Don't touch it. Don't…
Watch as the flesh changes color from the bottom upwards. If you like your salmon rare then flip it over when about 1/6 of the flesh has changed color; if you prefer medium rare wait until 1/3 has changed before flipping. 1/2 for medium and for well done (which is just wrong, but each to their own) the flesh should be almost all changed.
Flip the fish over at your desired point and cook for no longer than 1 minute with the skin side up, then remove from the heat and serve right away.
To avoid fish scales infiltrating every nook and cranny of your kitchen, make sure you ask your fish guy/lady to scale your fillets for you. I made the mistake the other day of assuming that my fillets were already scaled, but they weren't. It is much easier to scale a whole fish than it is to scale fillets let me tell you.

Crisp Skinned Salmon with Chermoula Sauce
Author:
The Luminous Kitchen
Ingredients
6 (180g) salmon fillets
2 Tbls olive oil
salt flakes
Chermoula Sauce:
½ cup flat leaf parsley
½ cup coriander leaves
1 clove garlic, roughly chopped
½ tsp chilli flakes
1 tsp ground cumin
1 tsp ground coriander
½ tsp cracked black pepper
1 Tbls lemon juice
1 Tbls olive oil
½ cup Greek yogurt
Instructions
To make the chermoula sauce combine the fresh herbs, spices, lemon juice and olive oil in a mini food processor and process until smooth.
Transfer to a bowl and stir in the Greek yogurt. Season with salt to taste.
Heat a non-stick pan to medium heat.
Brush the salmon skins with olive oil and sprinkle some sea salt flakes in the pan.
Place the salmon fillets in the pan skin side down and allow to cook for 3-5 minutes depending on how well done you would like yours to be.
Turn them over and cook for a further 1 minute before removing from the heat and serving.
Serve with steamed vegetables or a side salad.
Have any more tips to add? I'd love to hear them in the comments below.
There was an issue loading your timed LeadBox™. Please check plugin settings.
There was an issue loading your exit LeadBox™. Please check plugin settings.
Related Posts via Categories