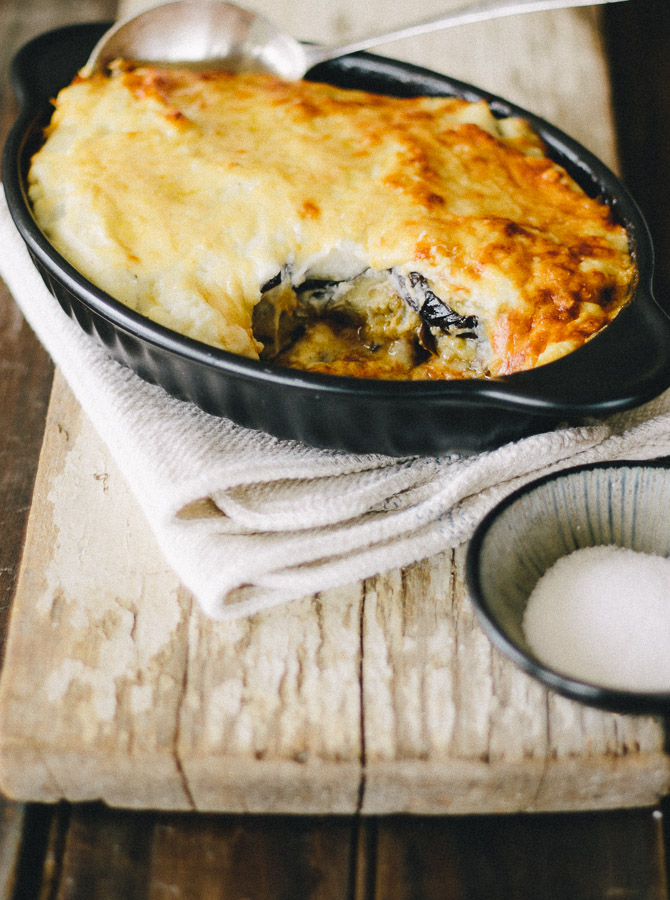 This went down like a treat in our house. I love béchamel sauce, but who wants the unnecessary white flour needed to make it? I came across this recipe for Creamy Cauliflower Sauce from Pinch of Yum and it is ridiculously yummy and a great way to sneak more veggies onto kid's plates.
By adding the carrots to the mince I was able to almost double the amount of the beef layer and once again sneaking those veggies in.
You might have left over cauliflower béchamel, depending on how much you choose to use, but it freezes really well so just pop any left overs in a container in the freezer.

Moussaka With Cauliflower "Bechamel"
Ingredients
I onion, diced
3 cloves garlic, finely diced
olive oil
500g grass fed beef mince
3 organic carrots, grated
2 cans diced organic tomatoes
1.5 large eggplant, sliced into 5mm discs
Cauliflower "bechamel":
1 head cauliflower
1/ 2 cup vegetable stock
½ cup milk
3 cloves garlic, minced
salt and pepper to season
150g parmesan, grated
Instructions
Saute the onion until tender, then add the garlic and saute for another minute.
Add the beef mince and brown all over.
Add the diced tomatoes and the carrots and cook on a medium to low heat for an hour adding water as you go so that the sauce doesn't dry out.
Meanwhile brush the sliced eggplant on each side with olive oil and bake in the oven on a lined baking sheet for 10 minutes at 190C or until they are soft and starting to brown, then remove from the oven and set aside.
To make the cauliflower "bechamel" sauce cut the cauliflower into small florets then cook them in boiling water until tender. Add the cooked cauliflower to a blender with ½ cup of vegetable stock and milk ( you may need to do this in batches). Blend until smooth.
Lightly saute 3 garlic cloves in 25g butter then add the blended sauce and heat through.
In a lasagne dish, layer the ingredients beginning with the beef mince on the bottom, then topping with half the parmesan, then spread out the eggplant and pour over cauliflower bechamel( you might have left over cauliflower sauce which you can freeze to use again). Top it off with the remaining parmesan and bake in the oven at 180C for 30 minutes or until the parmesan has melted and browned.
There was an issue loading your timed LeadBox™. Please check plugin settings.
There was an issue loading your exit LeadBox™. Please check plugin settings.
Related Posts via Categories