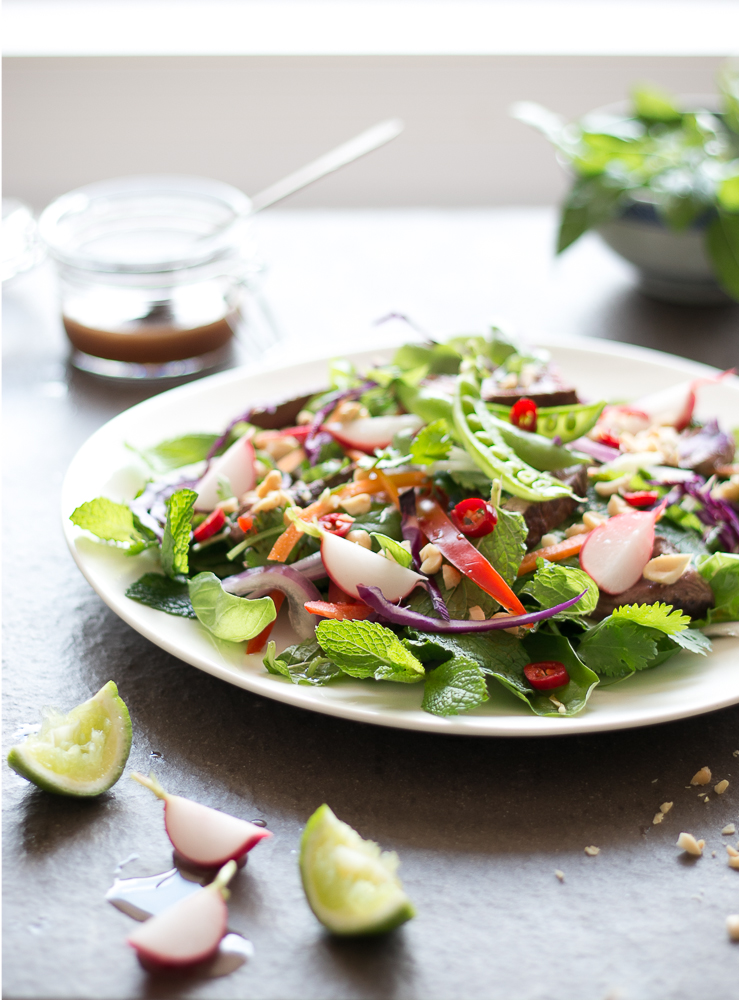 I am having a love affair with tamarind at the moment. It is what sour dreams are made of and no I absolutely did not eat some straight out of the jar with a spoon. Well maybe just a little.
Last week I used it to make a sour Thai coconut soup that I ate for 5 meals in a row- seriously I couldn't get enough of it. We have been having a heat wave on the Gold Coast (Well I'm pretty sure we have – maybe it's just me and my super pregnant, overheating body) so I had to put the aircon on just to eat the soup, but you have to go with what your body is craving right? At least it's things like tamarind, nectarines and pickled onions (together) and not Mars Bars and Twizzlers.
There is something about Thai flavors coming together in a crisp salad that makes your tastetbuds quiver in anticipation. Fresh, flavorful and cooling what could be better? This recipe is from my FREE ecookbook: Sensational Salads which can all yours by signing up in the sidebar.
Now if you'll excuse me I will be over here with my jar of tamarind.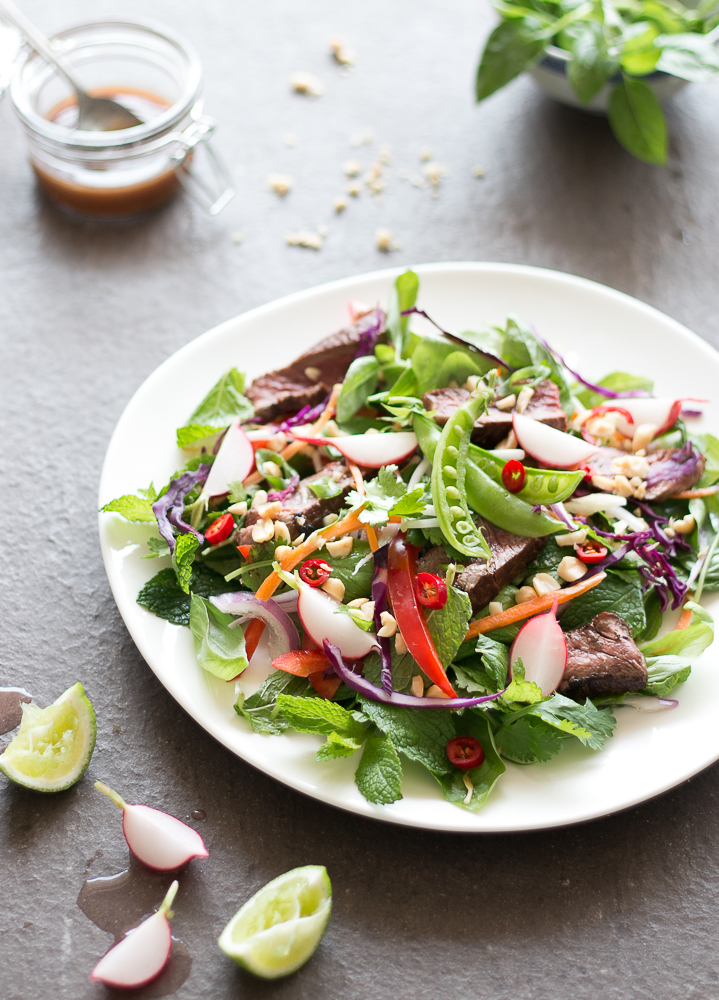 Thai Beef Salad with Tangy Tamarind Dressing
Author:
The Luminous Kitchen
Ingredients
2 grass fed beef eye fillet steaks
1 Tbls olive oil
5 radishes, quartered
1 handful of sweet peas, halved
1 red pepper, thinly sliced
¼ red cabbage, thinly sliced
1 fresh long red chilli, thinly sliced
½ cup roasted peanuts, roughly chopped
2 cups fresh basil leaves
1 ½ cups fresh mint leaves
100g baby spinach leaves
Dressing:
1 ½ Tbls tamarind paste
juice of 1 lime
1 Tbls fish sauce
1 Tbls honey
Instructions
Combine all the dressing ingredients well and set aside.
Heat a pan over high heat. Brush the eye fillet steaks with olive oil and cook them for 2 minutes before turning over and cooking for another 1 minute.
Remove from the pan, cover with foil and allow to rest for 10 minutes before seasoning with salt and pepper and slicing thinly.
Combine the radishes, sweet peas, red pepper, red cabbage, herbs and baby spinach on a serving platter. Place the fillet strips on top and finish by sprinkling over the chilli and chopped peanuts.
Drizzle with tamarind dressing just before serving.
There was an issue loading your timed LeadBox™. Please check plugin settings.
There was an issue loading your exit LeadBox™. Please check plugin settings.
Related Posts via Categories