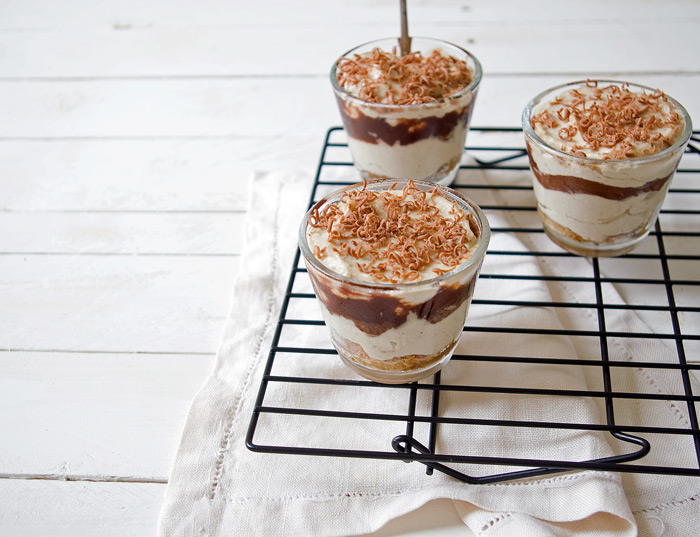 Its Monday morning and I just realized that Valentines day is coming up this week. On Friday actually. Its probably the one night of the whole year that I just can't bring myself to eat out at a restaurant. Now don't get me wrong I love to eat out and have someone else cook for me but I always feel a bit  awkward eating at a restaurant with a whole bunch of other couples on Valentines day. Does anyone else feel that way?
I also like to include my friends that perhaps don't have someone to share Valentines day with which is why you'll usually find me on a picnic blanket somewhere with good food (picnic food is the best!), bubbles, friends and of course my lurve.
If Corey and I were living on our own and not with his whole family right now I might have even whipped us up a romantic dinner for two but we  don't need a special occasion to do that nor do you.
If you are planning a little something like that then I have a really easy peasy Vegan Tiramisu dessert recipe for ya. I've had this one up my sleeve for a while now because tiramisu is Corey's all time favorite dessert and I thought it would be fun to see if there were a way to make it healthier but just as good. Well, while its not quite the same as a full dairy one it is very similar in taste and texture and even my traditional Italian tiramisu loving man agreed.
Speaking of traditional .. I haven't included any marsala in the recipe for no other reason than I just couldn't find any. A good sherry could do at a pinch in a real tiramisu (shhhhh, don't let an Italian hear me say that), but this is not real tiramisu.
Boys take note here because this literally takes no time at all to make (besides remembering to soak the cashews overnight) and it ticks a whole heap of "clean" boxes so your lady will love it. The recipe makes 6, if you're just making for the two of you just adjust the ingredients accordingly.
12 grain free almond cookies (recipe here from the awesome blog againstallgrain.com, *sub the egg with chia gel for vegan,alternatively use lady finger biscuits)
Valentines Day Vegan Tiramisu
Ingredients
2 cups cashews
4 medjool dates pitted (add 1 more if its not sweet enough for you)
4 T coconut oil
4 drops vanilla paste
1 cup good quality coffee
1tsp rapadura sugar
2T cacao powder
1T maple syrup
12 grain free cookies (see above link in the text for recipe or use vegan biscuits)
Instructions
Soak the cashew in the fridge for 6-8 hours or overnight
Remove the cashews from the fridge and drain the excess water. Give them a rinse and put them in a high speed blender. Add 1 cup water, 4 dates, 2T coconut oil, 4 drops vanilla paste and blend until very smooth. You will have to stop and scrape down the sides a few times.
In a separate bowl mix the cacao powder, maple syrup and remaining 2T coconut oil until combined well.
Sweeten the coffee with rapadura sugar.
Take 6 small ramekins and break up the biscuits into the base of each one. Spoon over some coffee, then layer with a big tablespoon of the cashew cream. Spoon some chocolate mix over the cream and repeat that layering again until the ramekins are full, sprinkle some cacao over the top or grate some chocolate over.
Cover with plastic wrap and put them in the fridge for a minimum of 1 hour to set. ( They get far tastier with time though)
Makes 6
There was an issue loading your timed LeadBox™. Please check plugin settings.
There was an issue loading your exit LeadBox™. Please check plugin settings.
Related Posts via Categories