Apple crumble always reminds me of Sunday afternoons when I was a kid. I was always so excited to help my mom make it after church and loved the feeling of getting right in there with my hands and crumbling the butter through the flour. I love how the smell of warm apple crumble fills the whole house and adds a scent of nostalgia.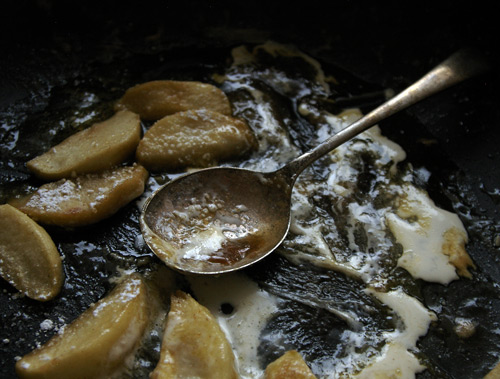 Apple crumble is one of the easiest baking recipes to substitute white flour in. For todays recipe I used desiccated coconut and almond meal for a crunchy and rich topping. You can use any apples you like but I love baked granny smiths so this is what I used. I also used rapadura sugar which is made from dehydrating juiced sugar cane. Rapadura sugar contains more minerals  and nutrients than refined white sugar and is sweeter so less is needed.
Grain Free Apple Crumble
Ingredients
3 apples
¾ cup almond meal
½ cup desiccated coconut
1 level tsp cinnamon
55g butter (you can also use cold pressed coconut oil) room temp
¼ cup flaked almods
1 TBL currants
¼ cup of water
2 T sugar ( I used rapadura sugar)
Instructions
Heat the oven to 160C
Peel the apples and core them. ( If you don't have an apple corer you can just cut of the core when slicing the apples). Slice the apples into pieces. You should get roughly 8 pieces per apple
Heat the apples in a saucepan with 25g butter and saute for a few minutes on medium heat. Add the water and 1T of sugar and cook for a further 20 minutes on low until they are soft and all the liquid has reduced. Add the cinnamon and currants and mix through
In a bowl rub 30 g of butter through the almond meal and coconut. Sprinkle 1T of sugar over the mixture and mix in.
Place the apple mixture in a baking dish and pour the crumble mixture over the top. Let some of it settle down in amongst the apples. Sprinkle with flaked almonds
Bake in the oven for 20 minutes taking care not to let the top brown too much
Serve with organic whole cream or custard
There was an issue loading your timed LeadBox™. Please check plugin settings.
There was an issue loading your exit LeadBox™. Please check plugin settings.
Related Posts via Categories