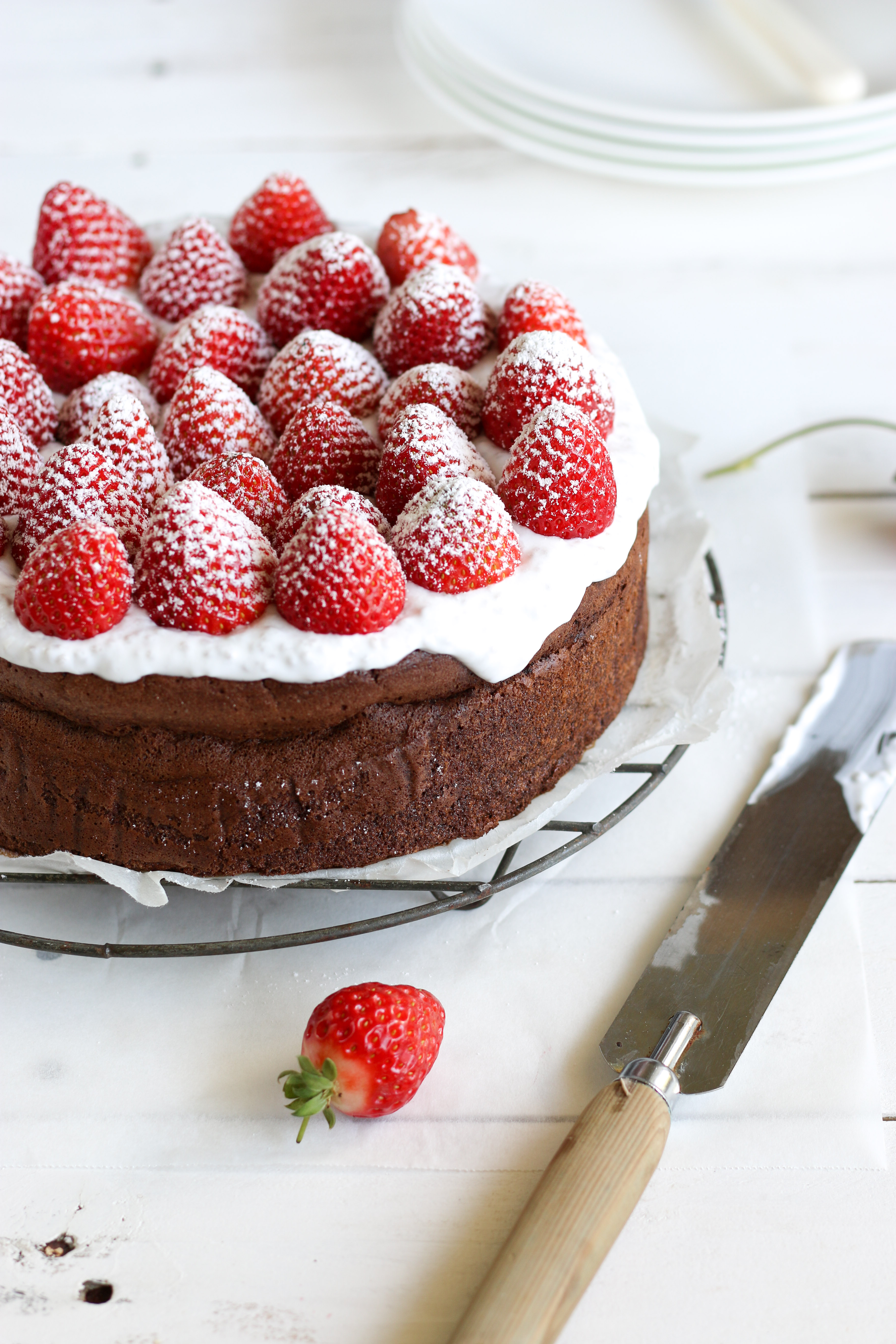 This flourless chocolate cake is definitely not for the I Quit Sugarers, but it is beautiful and who doesn't love chocolate and strawberries together? It is rich, decadent and most importantly, very moist.
My mom-in-law came across the recipe and when she made it – I knew I just had to share it with you. The original recipe called for xylitol or stevia and you can use either one, but I just figure if I'm going to eat cake that I lovingly made it's just not worth it to have it taste like stevia.
Flourless Chocolate Cake
Ingredients
400g dark chocolate (70%cacao)
8 Tbsp butter
9 eggs, separated
¾ cup sugar
300 ml coconut yogurt / cream
3 Tbls chia seeds
2 punnets strawberries
Instructions
Preheat the oven to 180C (350F)
Grease and line a 9 inch springform tin with baking paper.
Fill a pot ¼ with water and bring to the boil. Place a bowl over the pot, making sure that the bottom of the bowl is not touching the water.
Break the chocolate up in the bowl and add the butter. Whisk as the chocolate begins to melt.
Whisk the egg yolks and sugar until the sugar has dissolved and the eggs are pale in color.
Whisk a small amount of the chocolate into the egg mixture to temper the eggs ( this will ensure the eggs don't scramble when all the chocolate is added).
Add the remaining chocolate and whisk until smooth.
Beat the egg whites in a separate bowl to stiff peaks then fold into the egg/chocolate mixture.
Pour into the lined springform tin and place in the oven.
Bake for 40 minutes. The cake is done when the top begins to crack and a toothpick inserted comes out with moist crumbs clinging to it.
Allow the cake to stand for 10 minutes, then remove the ring of the springform tin. Allow to cool.
Mix the chia seeds and coconut yogurt together then spread evenly over the top of the cake.
Cut the tops off the strawberries and arrange them on top of the cake. Dust with a little icing sugar. ( if using cream - whisk the cream until it thickens slightly before adding the chia seeds)
There was an issue loading your timed LeadBox™. Please check plugin settings.
There was an issue loading your exit LeadBox™. Please check plugin settings.
Related Posts via Categories