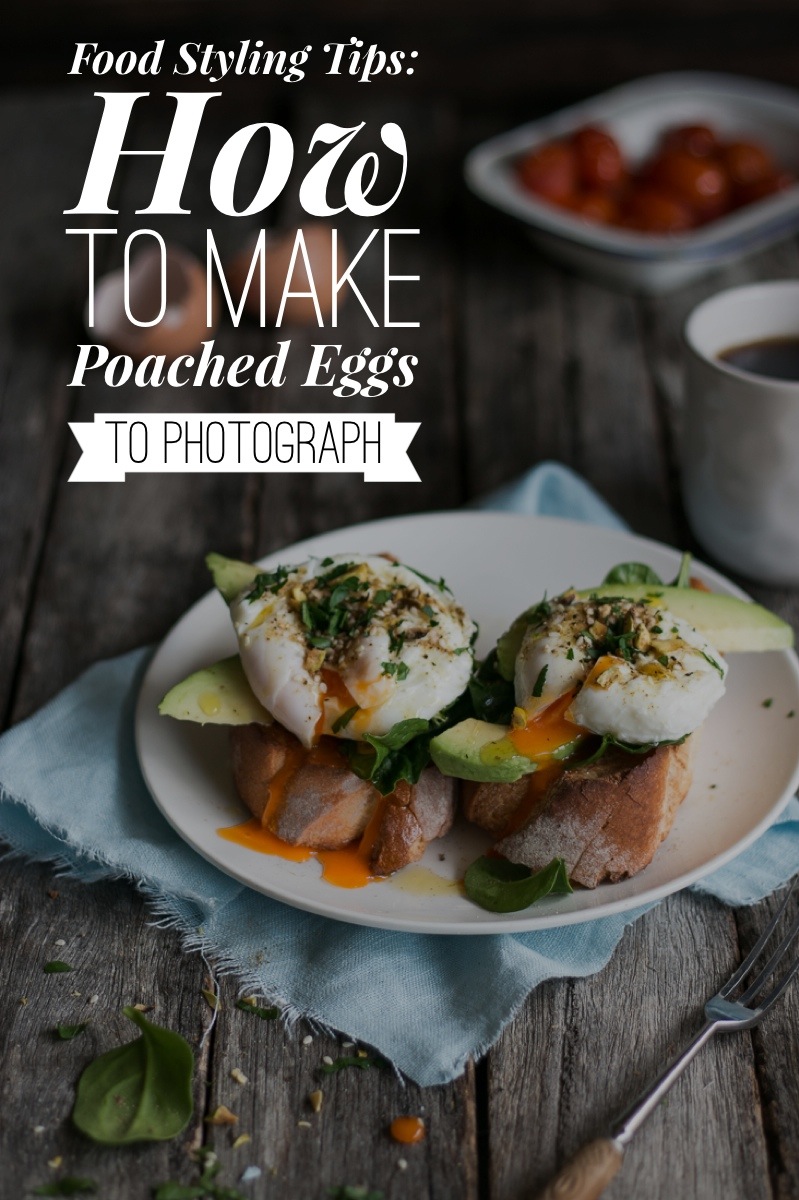 Making poached eggs to eat and to photograph can be two very different things depending on how you like to enjoy your eggs. I prefer mine slightly firmer to eat than I would make them to photograph because creating the YUM factor in a poached egg photograph is all about the yolkporn ( yes that is a thing! – Check out the hashtag on Insta) and to make sure your yolk looks absolutely delicious it needs to be oozing out when you cut into the egg.
I'm going to show you how you can make perfect poached eggs that are good enough to shoot every time.
What you need to do:
Fill a medium size saucepan up with water and bring it to a simmer. You don't want the water be boiling otherwise your egg will break up when it enters the water.
Add 2 tsp white vinegar to the water.
Use fresh eggs straight from the fridge. Break your egg into a small ramekin ( I use an espresso cup)
Using a spoon stir the water until a vortex forms in the middle then very gently, drop your egg in. Turn the heat right down to low. If the circulating water begins to slow, give it another gentle stir around the edges. The egg should fold around itself and cook.
After 2 minutes you can check on your egg by removing from the water with a slotted spoon and gently pressing down on the yolk. You should be able to tell by how firm it is wether or not it is at a point where it will be oozy- ( usually around 2-3 minutes).
When you are happy with the firmness of your yolk remove the egg from the water using a slotted spoon and place it in an ice bath to stop the cooking process.
You can trim the excess egg white using kitchen scissors to tidy it up if it needs, then let it  drain on kitchen towel. Set aside ready to use.
---
You can also hide any tears or excess egg white under a beautiful garnish. I like to garnish my eggs with dukka because –  well it looks pretty and it tastes delicious, but you can also use chopped herbs, cracked pepper and other spices.
You need to work quickly so it's best to have everything ready to go, including a smooth, sharp pairing knife to cut into the eggs right before you start to shoot. The ice bath stops the cooking process so that the yolk stays at the desired consistency, but once you cut into the egg it will start to ooze and you may only get a chance to take 10 or so photos before the YUM factor is lost and it just looks messy so make sure you take some test shots before you cut the eggs to get your settings just right. You might also need to wiggle the knife a little as you cut to make the opening wide enough for the yolk to run beautifully.
If you can get someone close by to cut the eggs for you while you stand ready to shoot then even better, but if not cut, shoot and enjoy your yummy eggs.
---
Cooking Tip: If you are making eggs benny for a bunch of people then lightly grease a silicon muffin tray, crack the eggs into the muffin holes and cook in the oven at 180C until they are cooked to your liking. This way you can cook numerous eggs at once instead of  one by one when poaching.

Poached Eggs on Toasted Sourdough with Avocado and Dukka
Ingredients
2 fresh eggs
½ ripe avocado
1 handful baby spinach leaves
2 pieces sourdough
olive oil
2 sprigs Italian flat leaf parsley
¼ lemon
sea salt and pepper
Dukka:
⅔ cup hazelnuts
½ cup sesame seeds
2 T coriander seeds
2 T cumin seeds
2 T freshly cracked black pepper
1 T sea salt flakes
Instructions
To make the dukka: Preheat the oven to 180C. Spread the hazelnuts out on a baking sheet and roast in the oven for 3-4 minutes, then rub them in a tea towel to remove most of the skins. Pour the hazelnuts into a food processor and pulse until roughly chopped. Heat a frying pan over medium to high heat. Add the spices and sesame seeds and allow to toast briefly. Remove the pan from the heat and stir in the salt, pepper and hazelnuts. Store in an airtight container.
Fill a medium size saucepan with water and heat until the water begins to simmer. Add 2 tsp white vinegar.
Break one of the eggs into a small ramekin. Stir the water in the pot until a whirlpool forms, then gently drop the egg into the center of the whirlpool. Turn the heat right down to low and allow the egg to cook for 3-4 minutes, then remove with a slotted spoon and immerse in an ice bath. Repeat with the second egg.
Brush the sourdough with olive oil then toast on a griddle pan. Slice the avocado and season with a squeeze of lemon and salt and pepper.
Top the sourdough with baby spinach and avocado. When you are ready to serve place the eggs back in the warm water to heat up then remove from the water and drain on paper towel. Place the eggs on top of the avocado and sprinkle with dukka and chopped parsley and serve.
These bloggers have it down!!!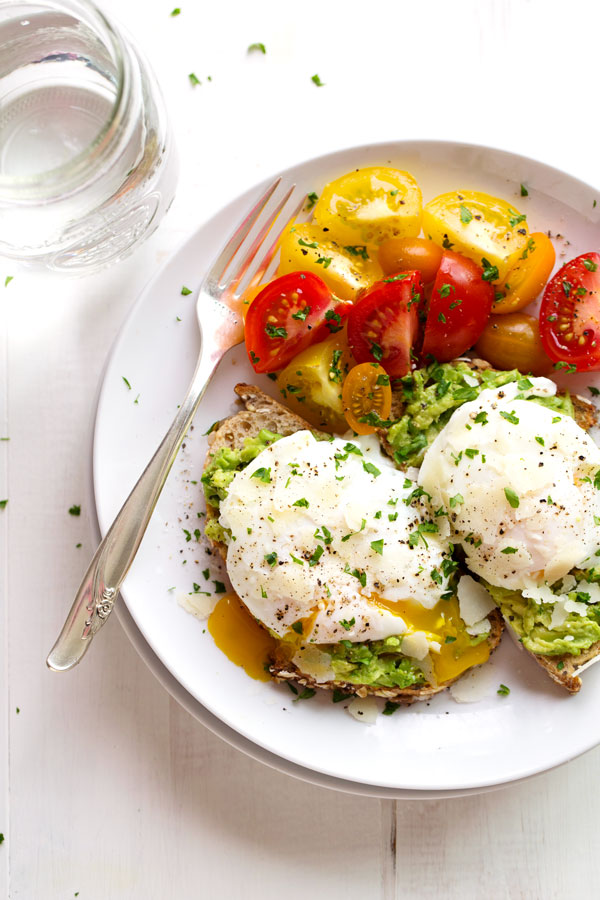 This is Lindsay, from Pinch of Yum's "Simple Poached Egg and Avocado Toast" gorgeous photo.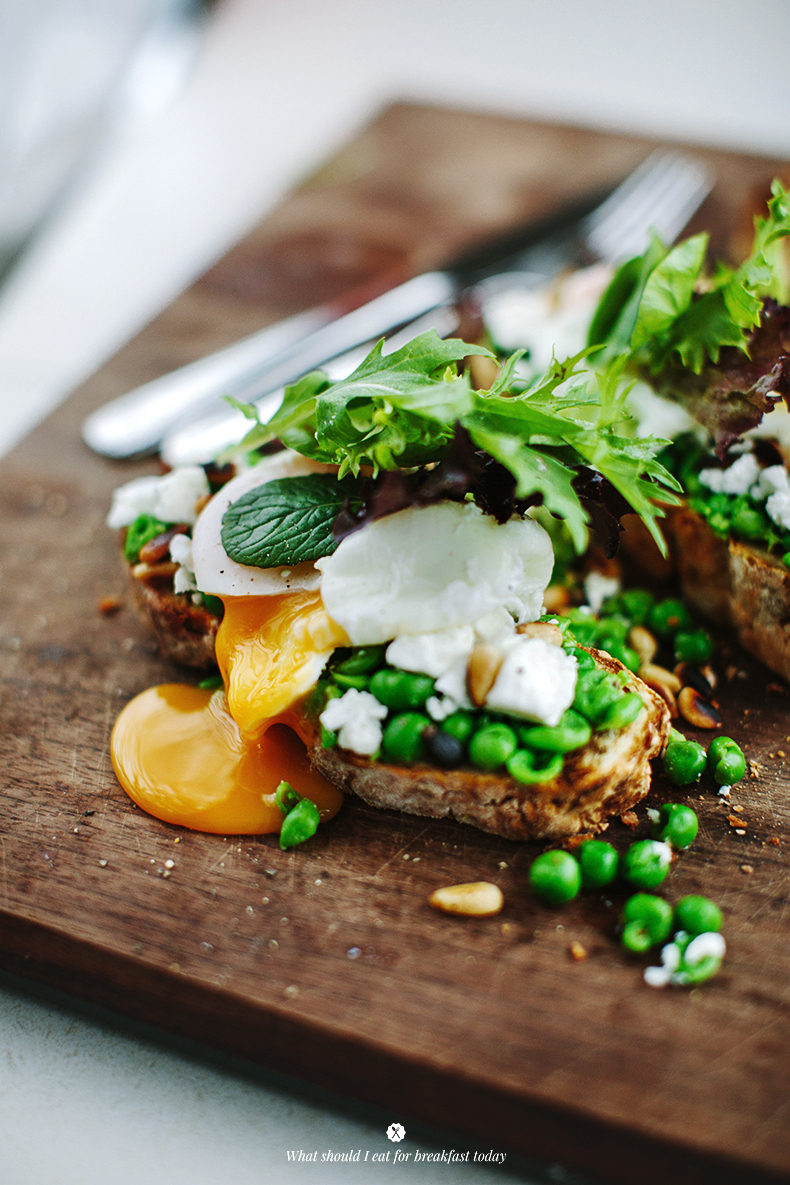 This incredible looking yolk is Marta's, from What Should I Eat for Breakfast Today and her "Green Sandwich with a Poached Egg" recipe.
…And this delectable delight is Tami, from Running with Tweezers's Mushroom and "Wilted Greens Toast with a Poached Egg" recipe. Perfection.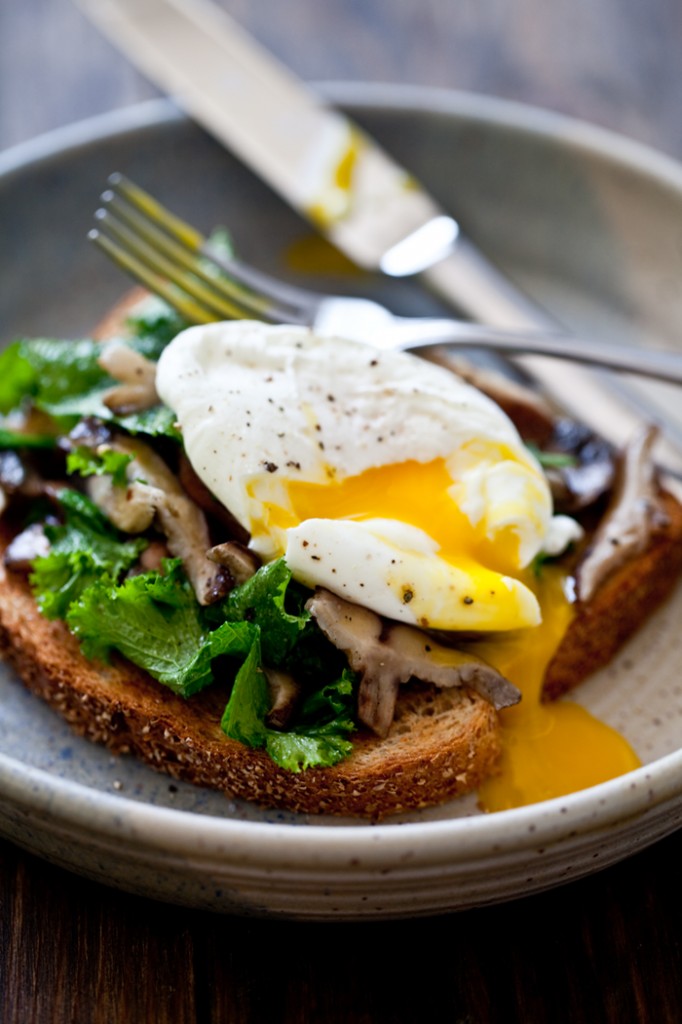 ---
Got any more tips to add to the conversation? Leave them in the comments below.
There was an issue loading your timed LeadBox™. Please check plugin settings.
There was an issue loading your exit LeadBox™. Please check plugin settings.
Related Posts via Categories