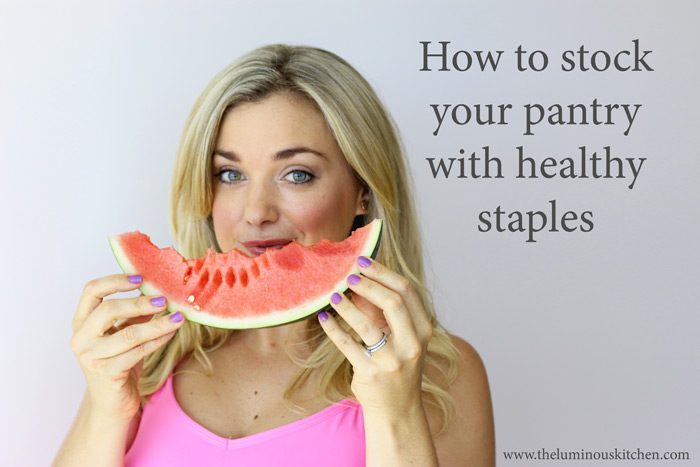 Corey and I moved into our new house.
It's the cutest thing out and I am so happy to finally have a little place of our own. After living with the parents for the past 5 months I am starting with a fresh new kitchen but some very empty shelves.
// I need to stock up on a whole heap of things so I want to take you on the journey with me as I fill my shelves with good nutritious foods because I know when I don't have my fridge and cupboards well stocked with a variety of healthy foods I don't cook good meals and then I feel like crap and I start to think crap thoughts and I'm no good to anyone. Have you ever noticed a correlation between how you are eating and how you feel emotionally on a day to day basis?
// Quite often when I have a well stocked pantry I  find that I come up with really interesting dishes combining whatever I have in the fridge. It allows me to me more spontaneous with my cooking.
Now it doesn't have to cost you an arm and leg to stock your pantry well. There are a lot of healthy non-perishable goods that are actually quite in-expensive like grains and legumes.
// In part 1 of the Pantry Overhaul I am going to share my shopping list for go-to items to stock your shelves with then in part 2 I'm going to share with you some tips on how to store your food well so that it lasts and you have less wastage.
// This is quite a comprehensive shopping list but I'm not going to get it all at once. I'm going to add an extra spice or condiment each time I hit the grocery store and I know that in no time I will have my cupboards filled to the brim with everything I need to make delicious meals.  The same goes for you if you are looking to overhaul your pantry and replace some of the not so healthy items with better ones. You don't have to do it all once and outlay a huge sum of money. Making gradual changes will actually ensure you keep to them.
 Lets begin
1. Herbs and Spices
When it comes to herbs and spices I love to have a variety to play with. I grow my own fresh basil, thyme, rosemary, oregano and parsley because I use so much. Herbs and spices punctuate food with flavor its like adding a big 'ole exclamation mark to a dish.
Himalayan rock salt

Maldon sea salt flakes (they are just the best to cook with)

black pepper

white pepper

dried thyme

dried basil

dried oregano

mixed Italian herbs

coriander seeds

ground cumin

sweet smoked paprika

turmeric

bay leaves

ground cinnamon

ground nutmeg

vanilla pods

garam marsala

ginger

saffron

chilli flakes

fennel seeds

ground all spice

kaffir lime leaves

Durban curry powder
2. Oils
You need an array of oils to suit the type of cooking you're doing. If you are frying something up in a pan on high heat then coconut oil is great as it has a high smoking point but if you don't want the coco-nutty flavor then grapeseed oil is your guy. Obviously EVOO is just awesome over your salads or drizzled at the end of the cooking process and sesame oil gives fantastic flavor to Asian dishes.
These are my top 5 staple oils.
coconut oil

( I even keep a jar of coconut oil in my bathroom to use as a make-up remover and moisturizer)

grapeseed oil

extra virgin olive oil

sesame oil

truffle oil (just because its fricken delicious!!)
3.Grains
I generally try to stay away from gluten containing grains and when I do eat them I have them in their most natural form. 
buckwheat

quinoa

freekeh

barley

brown rice

millet

barley
4.Beans and Pulses
Beans and pulses give you so much bang for your buck. I love to add a can of cannellini beans or lentils to salads for their filling properties and high amounts of insoluble fibre. I also always have a couple of cans of chickpeas in the cupboard to whip up some humus. I refuse to buy store bought humus or other dips as they are full of additives and preservatives.
french lentils

butterbeans

red kidney beans

cannellini beans

chickpeas
Nuts, Seeds and Dried Fruits



If you keep a good stash of these in your cupboards you will 
A. always have a killer trail mix to snack on and
B. you will have awesome breakfast combinations to whip up at the drop of a hat. Think mixed nuts, seeds with some goji berries, cacao nibs a fresh banana some frozen blueberries and coconut yogurt. Sound pretty good? Check out my latest instagram photo for an example.
Nuts

almonds

cashews

shelled pistachios

hazelnuts

walnuts

pinenuts

macadamia nuts
Seeds

linseeds

pepitas

poppy seeds

sesame seeds

sunflower seeds

chia seeds
Dried Fruit

raisins

cranberries

white mulberries

apricots

prunes

dates

goji berries

desiccated coconut

cacao nibs
6.Condiments
I love tomato sauce, barbecue sauce and sweet chilli but I don't really keep them in the house. If they're there I'll use them and there can be up to 3 teaspoons of sugar in just 20ml of each of those and personally I'd rather save those calories for red wine. The food I cook really needs to taste  amazing and using condiments is a great way to achieve this. Here are some of the condiments I like to have on hand to flavor up my food.
balsamic vinegar

red wine vinegar

apple cider vinegar ( I use Braggs because its made with the mother)

rice wine vinegar – champagne and sherry vinegars are lovely to have on hand as well

soy sauce

tamari sauce ( Tamari is very similar to soy sauce in color and flavor but it is less salty than soy sauce and because of this it has a much smoother taste)

fish sauce  – a fishy, pungent and salty sauce made from fermented fish ( usually anchovies) Its high in sodium and used as a "salt" in Thai cooking. Because it's so strong you only ever need to use a few drops. Fish sauce is perfect for soups, stews, marinades and dipping sauces

tahini- made from ground sesame seeds is an essential ingredient in Middle eastern dishes like hummus, baba ghanoush and halva and can used to make delicious dressings and marinades

mustard – mustard plant seeds are loaded with antioxidants, anti inflammatory compounds and essential minerals like selenium but watch out for the super processed brands with added preservatives they also tend to be really high in sodium

unsweetened peanut butter

almond butter

– makes a great afternoon snack with some celery sticks
7. Jars:
passata – perfect for making rich tomato sauces

sun dried tomatoes

olives

anchovies – I use anchovies in sauces and dressings for a salty kick

capers

wholegrain mustard

Dijon mustard

hot english mustard

sauerkraut

pickled ginger

beetroot

jalapeno chillies

gherkins

red cabbage

curry pastes ( Green Thai and Red Thai Chilli curry pastes)

harrissa paste

Stocks -Good quality stocks are non negotiables in my cupboards I love to make my own and I don't think there is anything in world that compares to homemade stocks but let's be realistic, I know I don't always have the time to make my own stocks so I keep a back up ready to go. There are some great stocks that you can buy in the supermarkets ( I love The Stock Merchant for their clean stocks) but try to stay away from the processed stock cubes that are laden with additives and MSG.
8.Superfoods:
lucuma powder – I like to add this to my smoothies for flavor

mesquite powder

acai powder- I add this to my smoothies or blend it up with frozen bananas and top it with nuts and fruit for a healthy "ice-cream"
9. Cans:
coconut cream

coconut milk

tomato puree

diced tomatoes

tuna – is a great way to get protein and heart healthy omega 3's

canned lentils – add canned lentils to soups and stews to bulk them up with

chick peas
10. Sweeteners
honey

maple syrup

rice malt syrup

rapadura sugar

coconut sugar

sugar ( I prefer to use a healthier substitute but sometimes you just need a wee bit in a recipe)
11. Flours:
corn flour

almond meal

brown rice flour

oat bran

spelt flour

 
12. Miscellaneous
bicarb

agar flakes

Kombu – Kombu is a seaweed traditionally used in Japanese cooking . It is a key ingredient in making dashi (Japanese stock). It provides dishes with minerals and nutrients and when added to the cooking water of beans and legumes, it makes them more digestible. 

bonito flakes ( for making miso soup)
13. In the Freezer
edemane beans- these make a really great snack. Just steam them and serve with a sprinkle of sea salt

frozen berries – they cost way less than fresh berries and they are still super nutritious. Pop them in your smoothies or in your porridge

I will always keep a bag of frozen mixed veggies in the freezer to use in emergencies

Frozen bananas – when bananas freeze, the sugars stretch and they become super sweet. You can blend them with a tiny bit of coconut water to make a healthy banana ice-cream or use them to sweeten green smoothies.
14. My Go- to produce
red and yellow onions

garlic

red chillies

ginger

lemons

limes

carrots

celery
15. In the fridge
organic butter

organic eggs

nitrate free bacon

cheese : feta, parmesan, homemade labne

greek yogurt

coconut yogurt

almond milk

coconut water – I use this as a base for smoothies 
There was an issue loading your timed LeadBox™. Please check plugin settings.
There was an issue loading your exit LeadBox™. Please check plugin settings.
Related Posts via Categories