Two weeks ago Corey and I put on a cocktail evening to share our plans for the year and our business with all our friends and family. I love any excuse to get people together and make beautiful food for them. I made everything pretty much from scratch and although it was quite a big task I had so much fun doing it.
I photographed these Gluten Free Thai Chicken Patties because I actually made them a few days ahead of time and froze them so that all I needed to do on the day was to defrost them and heat them through. I did this with a few of the nibbles and it was such a stress saver on the day when preparing everything that needed to be fresh.
You can use normal breadcrumbs to bind the ingredients together but I find substituting the breadcrumbs 1:1 with almond meal has exactly the same effect and cuts out gluten for those who are sensitive.
Coconut oil is awesome to fry them in because it adds great flavor and it has a high smoking point so it is a very healthy fat to cook with.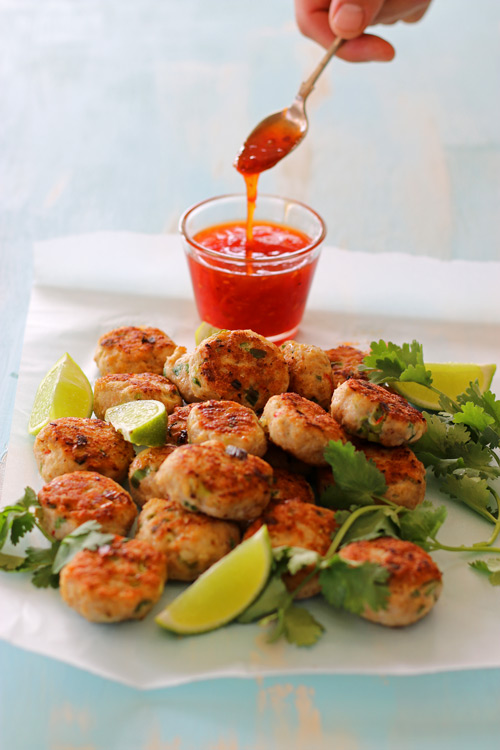 Gluten Free Thai Chicken Patties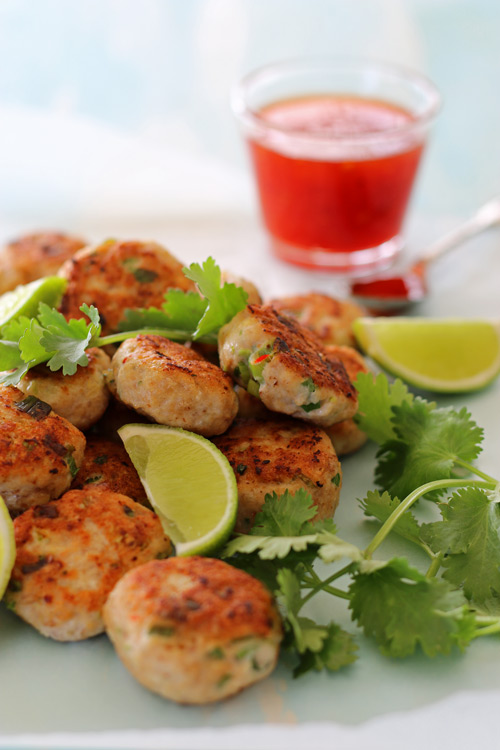 Ingredients
500g organic chicken mince
2 spring onions finely chopped
1 red chilli finely diced
1 clove of garlic minced
juice and zest of 1 lime + 2 limes to garnish
1 thumb nail piece of ginger finely grated
2 T fish sauce
1 bunch coriander (1/2 roughly chopped and the other half reserved to garnish)
1 egg
½ cup almond meal
3T coconut oil for cooking
Instructions
Preheat the oven to 180C (350F)
Combine all the ingredients in a bowl, reserving the coconut oil for cooking. Using your hands, mix them all together thoroughly.
Taking a small handful at a time, shape the mixture into patties. You may need to wet your hands slightly throughout the process so the mixture doesn't stick to your hands. If the mixture is too "wet" you can always add more almond meal as needed.
Heat a frying pan over medium to high heat and add the coconut oil then place the patties in the pan and brown them on each side for 2-3 minutes per batch.
Place the patties on a baking sheet and cook them through in the oven for 20 minutes.
Remove from the oven and serve with sweet thai chilli sauce and garnish with wedges of lime and coriander.
Makes: 25 small patties
There was an issue loading your timed LeadBox™. Please check plugin settings.
There was an issue loading your exit LeadBox™. Please check plugin settings.
Related Posts via Categories