One word for this dish.. fricken exciting.
Ok thats two words but it really is. I call it a lovefest in a bowl because its the perfect marriage of flavors and textures. Its also a beautiful healthy meal and what better way to show yourself a little love than by nourishing your body with good food?
You have the garlicy chared veggies and the crunch of the spicy dukka over the sweet pumkin, the lemon, the herbs and then there are the pomagrante seeds. Oh sweet pomegranate!
I wondered how you would explain what its like to eat a pomegranate as I was cracking it open and I was at a loss for words. I asked the fam and no one could come up with a description that did it justice. Explosion of flavor doesn't even begin to describe the joy of the fresh, fruity, exciting bursts in your mouth. They truly bring a dish to life.
The first time I ate a poegranate was actually only last year. At the end of the summer in the med we were based in Sardinia on the yacht we were working on and on a walk one afternoon Corey and I spotted one lonely pomegranate high up in a tree.
It was mine.
I climbed up, reached, stretched as long as my short little body could and I got it. It was  worth the cobwebs I had to get through and the bugs I know fell in my hair.  It turned out to be heaven.
They had actually been quite hard to come by throughout the summer and at 10 euros a pop it was an ingredient I left off my list, even if I was working for a billionaire, I still had a budget to stick to.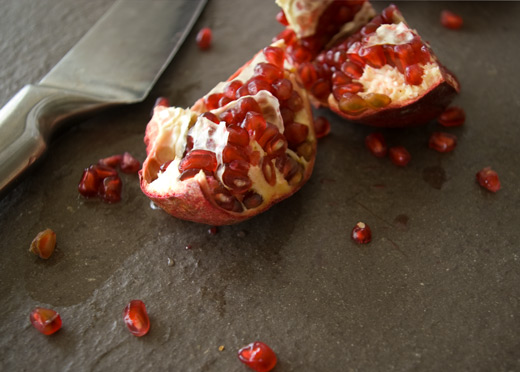 Traditionally this would normally be made couscous but to avoid unnecessary gluten intake I have used quinoa. You can use couscous if you like swapping it in for the quinoa in the same quantities and cooking it to the packet instructions.
To salt your egg plant or not? I always do as a rule for myself to avoid any bitter flavors. It also leaves them with a denser texture so they tend to absorb less fat when it comes to cooking, something that really helps with excess oil in a dish like parmigiana. If you are buying young fresh tight skinned egg plant you can get away with not degorging ( the process of salting, resting and rinsing) if you are pressed for time.
Enjoy this one, its yummy!
Moroccan Lovefest in a Bowl
Ingredients
2 zuchini thinly sliced
1 egg plant thinly sliced and salted then wiped with paper towel
olive oil
1 clove of garlic
sea salt
¼ pumkin cut into slices
2 T dukka ( store bought or use my recipe here)
1 cup quinoa
1 small bunch mint
1 small bunch corriander
1 pomegranate
handful of lettuce
Instructions
Preheat the oven to 210C
Place the pumpkin pieces on a baking tray and drizzle with olive oil. Sprinkle some salt and pepper over and roast in the oven for 25 minutes, then set the oven to grill and turn the pieces over so they are well browned on each side. Then sprinkle the dukka over.
Using a pastry brush, slightly coat the eggplants and zuchinni pieces in olive oil and cook on a griddle pan or on the bbq for a few minutes each side until nicely chared with grill lines or if you are using a normal frying pan cook them until browned on each side then set aside, drizzle with olive oil, crushed garlic and salt and leave to marinade while you are busy with the rest of the dish.
Cook the quinoa in a pot with 2 cups of water on medium to high heat for 12 minutes then cover and remove from the stove.
When the quinoa has cooled chop the mint and the coriander and add to the quinoa along with the lemon zest and juice and a glug of olive and give it a good mix through seasoning with salt and pepper as needed.
Cut the pomegranate open and retrieve the seeds.
Bring it all together in a bowl by either keeping each component separate or mixing it all together.
There was an issue loading your timed LeadBox™. Please check plugin settings.
There was an issue loading your exit LeadBox™. Please check plugin settings.
Related Posts via Categories