2013 has been such a monumental year for Corey and I. We have been all over the place with many things changing and new beginnings and after taking so many leaps like getting married, starting a business, starting a blog, moving to a new country, then moving to a new city and back again, I still feel like 2014 is the year I will lean in even more and I am fricken excited for it all.
January 2013 saw us in Australia on holiday from the yacht Corey and I were working on in Mallorca, Heartbeat of Life. My parents had flown from South Africa to surprise us when we arrived at Corey's parents house and to celebrate our engagement party with everyone in Oz. Magic start to the year.
We headed back to Spain mid January to finish up our last few weeks on Heartbeat of Life. I celebrated my 29th birthday on the 27th  complete with a pink unicorn piñata. We were in  Spain after all.
This photo was taken after we were kicked out of Michelin Star chef Marc Fosh's restaurant because the boys were trying to lift us girls in our chairs (we had all just watched Magic Mike). It was a sad goodbye to our crewmembers and besties, Trent and Ange but it wasn't long before we saw them again in South Africa for our wedding!!
February was a whirlwind in South Africa putting the final touches to everything wedding. Including finding a wedding dress 2 weeks before the big day! Family and friends started arriving from all over the world and our wedding turned into a 2 week celebration with the people we love most in the world. My mom, sisters and my best friend, Andrea planned the best kitchen tea for me and in true Willcox sister style it couldn't be just a sweet nice tea party check out these cupcakes, they almost gave my Gran a heart attack. Big up to the lady that made them in such detail.
March 2 was our favourite day of the whole year. The day we got married. It was magic. On the beach, rustic west coast food, sun shining and so much love around. The party was epic, dancing on a dance floor in the sand in flip-flops, my kind of party. I woke up the next day with my garter still on, my favorite person in the world next to me and the sound of the ocean roaring. Pure bliss.
We hung out in South Africa after the wedding and went up the Garden Route with Corey's family and then onto the 5 star game farm, Kwandwe, for safari. We went black water tubing and I got bitten on the ankle by an eel! I mean who gets bitten in a river with no fish by an eel? The safari was 4 days of awesome game viewing, being pampered, and lots of champagne. We got see all the Big 5 including a massive male lion that walked right past us in an open land rover. Heartstoppingly scary.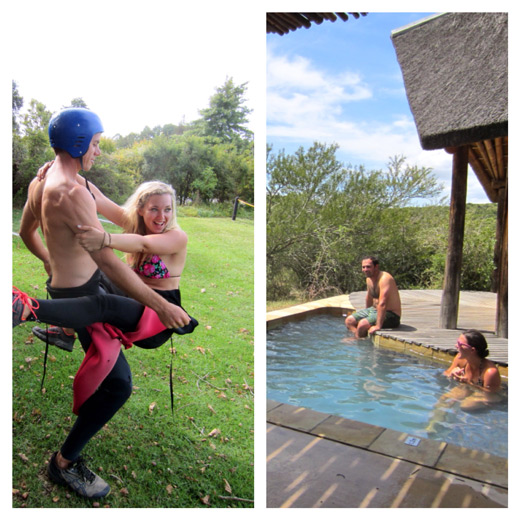 After the safari we said goodbye to all the Aussies and headed off to the Maldives on our honeymoon where we were so spoilt. We stayed in a bungalow over the water just like I had dreamed about since I was a kid. The water was as warm as bathwater and the snorkeling was out of this world. We ate fresh fruit for breakfast and I had dahl with all the pickles with every meal. It was so good.
We arrived back in Cape Town just in time to watch one of my best friends get married. Kerry and Adam said their I do's at her parents beautiful home in the labyrinth that her late grandfather had built. It was also where Adam had proposed. How special?
With all the celebrations over in April it was time to face reality and figure out what we were going to next. The plan was always to move to Australia but we weren't sure what were going to do once we got there. We had ideas to start a food business and we felt a deep need to give people more choice over the processed foods that line the supermarket shelves but what products to make or how were going to do it was another thing. We figured we needed a name first and we sat at my mom's countertop throwing ideas out. Everyone including my Gran gave their input and finally Mom said "well you really want to make Food, Actually right?" and that was it Food Actually was born.
Corey left for Australia first and I spent some time saying goodbye to my family and friends in Cape Town. It was really hard to leave and even though I had been travelling and working on yachts around the world for the past 6 years I was always going to come home. This move had a sense of finality about it and it was a lot to process.  We dived right into creating our first product when we got to Australia and within just a few short weeks we got it right with our grain free cereal, Norridge.
On May 13th I started studying online at the Institute of Integrative Nutrition in NY and my mind started to expand in ways that looking back were so subtle at the time but have had a huge impact on my life. I am now a few short months from graduating and looking forward to coaching some awesome clients in the New Year.
In June we moved to Melbourne. We figured while we don't have kids, we would go and experience living in the city and get Norridge established there. With the help of Corey's brother, Tyler, we loaded all our stuff into his van (after living on a boat for 6 years its amazing how much you can accumulate in 6 months!) and drove 2 days down south to Melbs.
We moved into our first home together and while it was tiny it was so much bigger than the cabin we had shared on the boat so it felt like a mansion to us. I got a job at a coffee shop and Corey went to work for Emma and Toms (a wellness food brand) to get an inside peek into running a food biz. We had the packaging design for Norridge done by a graphic design company Swear Words and it look way way longer than we had ever expected but the end result was perfect.
 I started creating some grain free recipes for our Norridge facebook page and just loved doing it. I have never been able to follow recipes and I am always creating my own but I didn't know how to use a camera to take the beautiful food shots I pour over on pinterest. I was telling a regular at the coffee shop this one day and he offered to lend me his Pentax DSLR to muck around with and after studying the manual and learing all I could online about food photography, I started taking a decent photo. Everytime he would come into coffee shop I would excitedly show him my photos one day he told me that he would like me to keep the camera as a gift for the health coaching sessions I had been doing with his daughter.
I had always wanted to start a food blog but didn't know how so I asked my friend Tristan from Click Shape in Cape Town for some help and he offered to set it up for me for free. I knew I was on the right path and it felt so good to finally find a way to marry my passions in cooking and sharing it with people. I started the Luminous Kitchen on 23 October.
After an awesome 6 months eating our way through the incredible cafes and restaurants and drinking way too many half soy lattes we decided to packed up again and drove back to the Gold Coast and back in with Corey's folks. This time, Corey's 2 brothers Beau,25 and Tyler 29 were also living at home along with his baby sister, Gracie, 18 so it is one full, fun household.
November saw us nose down and booty up with me doing loads of shoots for The Luminous Kitchen and Corey and I spending weekends doing tastings in all the health food stores on the Gold Coast and meeting such lovely people.
Now on the 31st of December I can't belive the whole month of december has flown by already. We spent Christmas on the beach in Byron Bay, one of the most beautiful parts of Australia. We surfed, cooked a lot, surfed and surfed some more. Corey spoilt me with the best Christmas present ever, a Canon 70D camera. I love my Pentax that I  started using for The Luminous Kitchen but this camera is phenomenal. Going from 6 mega pixels to 20 is just rad and I can't wait to do my first shoot with it in the new year. I have a couple of posts lined up to publish first from last year though. Look out for my Get a Fresh Start series starting 2 Jan 2014.
2013: new beginnings, magic and 350 half soy lattes.
2014 : connections, collaborations and leaning in.
Thank you so much for your love and support and becoming a part of this Luminous community. (and for getting through this huge post)
May your 2014 bring you your best year yet.
There was an issue loading your timed LeadBox™. Please check plugin settings.
There was an issue loading your exit LeadBox™. Please check plugin settings.
Related Posts via Categories