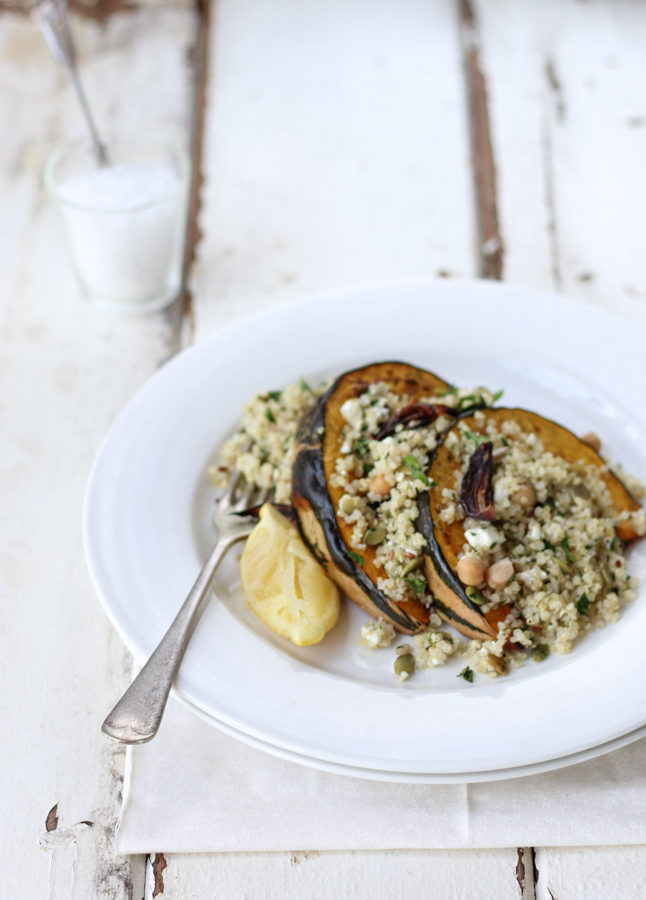 I have been asking a lot of people lately what their go-to dinners are because I'm so curious to know what people cook on those days when you're too tired to think of what to make and you just revert to your default meals.
This is one of my go-to meals, roast pumpkin and quinoa salad. I love it because it is so simple to make and you can change it up by adding whatever seeds or herbs you have on hand.
Roast Pumpkin and Quinoa Salad
Ingredients
½ pumpkin
1 red onion
1.5 cups quinoa
1 can chickpeas, drained
1 small handful Italian flat leaf parsley
2 T pepitas
30g feta cheese
¼ preserved lemon, thinly sliced ( or the zest of 1 lemon)
juice of ½ lemon
olive oil to drizzle
salt and pepper to taste
Instructions
Preheat the oven to 200C
Cut the pumpkin into chunky slices and lay them out on a foil lined baking tray
Peel the red onion, cut in half and then quarter each half again. Spread them out with the pumpkin
Drizzle with olive oil, season with salt and pepper and roast in the oven for 40 minutes
While the pumpkin is roasting, rinse the quinoa in a sieve under cold water then bring to the boil with 2 cups of water. Allow to simmer for 12 minutes then cover and remove from the heat.
In a bowl combine the chickpeas, feta, pepitas, preserved lemon and parsley. Add the cooked quinoa and roasted red onion. Pour the lemon juice over and drizzle with olive oil. Season with salt and pepper and mix together well.
Serve the quinoa with the roast pumpkin slices.
There was an issue loading your timed LeadBox™. Please check plugin settings.
There was an issue loading your exit LeadBox™. Please check plugin settings.
Related Posts via Categories