If there was ever a time when food nostalgia kicks into top gear, its around the Christmas season. I found myself saying so many times "Its just not Christmas without mince pies, or gammon, or shortbread" Its not really true, Christmas is about so much more than food and more than anything its about family coming together. As I write this post I am actually frantically trying to get everything packed and sorted because we are leaving early tomorrow morning to head down to Byron Bay to spend a week in a house on the beach with Corey's whole family.  I am so looking forward to cooking up a storm, surfing and finally finishing the 10 books I have on the go at the moment.
Christmas in the Southern Hemisphere is so radically different to the Christmas our friends up north experience. Instead of rugging up in front of the fire with warming spiced wine and hot food, we are high fiving each other in the surf, knocking back icy beers and getting stuck into cold prawns lathered in seafood sauce.
In South Africa growing up, Christmas day was always involved a braai (thats what we call bbq's). My sisters and I would  be in and out the pool the whole day waiting in aticipation to see how lunch turned out as it was the one and only day of the year my dad would "cook", but despite his best efforts he would burn the chicken every time. Luckily there was always a bit of boerie going too (boereworse is a type of sausage that South Africans are born loving and no braai is complete without a wheel of boerie sizzling away)
I experienced my first Aussie Christmas last year and its much the same as back home except Aussies love a seafood spread on Chrissy ( Australians will shorten any word, I love it) with a mound of cooked cold prawns. People actually line up at 4am on Christmas day where the trawlers come in to get the fresheset of the catch. We are spending a week down in Byron Bay for Christmas this year with Corey's family  so we got to work meal planning early on. I am making a Ginger Glazed Ham, some beautiful fresh salads and of course a Pavlova. Corey's uncle says he's going to teach me how to make a real Aussie Pav ( I have a pretty good idea but I'll humor him) We are also going to smoke some ocean trout and prawns. So in true Aussie Christmas spirit I bring you my Ultimate Aussie Seafood Christmas Recipes complete with mussels in a herbed butter and gremolata, vongolle (baby clams), mudcrab, prawns, roast garlic aioli, and seafood sauce.
After photographing the food our whole family sat down and feasted, eating with our hands and absolute abandon.  My favorite were the mussels and the gremolata. The mussels were soft and juicy and the gremolata always accompanies mussels well, bringing a fresh depth of flavour that only Italian food can.
Seafood Sauce
No real recipe here just combine mayonnaise with tomato sauce in a 4:1 ratio and season with a little sea salt and black pepper. Easy as and so good with prawns.
Preparation of Seafood
1. Mussels
Rinse the mussels in a colander and using a wire mesh sponge, scrub the shells clean, removing any barnacles. Mussels have a dark shaggy beard that protrudes from the opening of the shell which needs to be removed before cooking by simply pulling out and up on it. Removing the beard actually kills the mussel so try and do this as close to cooking as possible.
2 Mudcrab
We are so lucky to live on the broadwater here on the Gold Coast and Corey will regularly take the tinny  out ( a small fishing boat), set some crab pots out and then chase me around the house when he gets one.  Mudcrabs can be cleaned before or after cooking but I prefer to clean them before. This can be done by removing the top shell, cutting it in half and then removing the gills and guts under running water. I hate to cook with live shellfish and it really breaks my heart so in order to do it in the most humane way put the crabs in the freezer for 2 hours before cooking them.
3. Prawns
To clean prawns remove the shell and the vein that runs along the back of the prawn either before or after cooking. Prawns that are boiled in their shells are more plump and moister than prawns that have been peeled before cooking. To remove the vein run a pairing knife down the back of the prawn, making a shallow incision then using the tip of the knife, lift the vein from the flesh.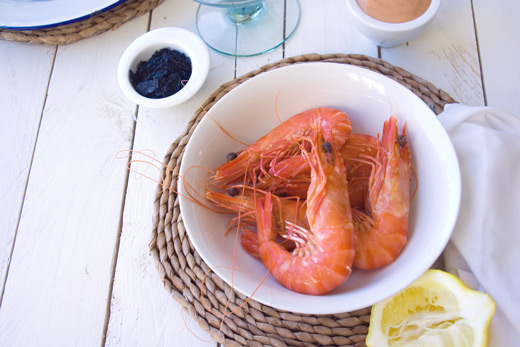 My Aussie Christmas Seafood Extravaganza
Ingredients
Roast Garlic Aioli
6 garlic cloves
1 cup olive oil
3 egg yolks
1T white vinegar
1 tsp dijon mustard
½ tsp white pepper
1 tsp sea salt
Gremolata
½ bunch Italian flat leaf parsley
3 anchovy fillets
zest and juice of 1 lemon
1 clove of garlic
sea salt
olive oil
Cooking and Serving Seafood
Mussels
1 kg mussels
Olive oil for frying
2 french shallots, finely chopped
2 clove garlic, finely chopped
1 red chilli, finely chopped
1 glass white wine ( remember, only use wine you would drink yourself)
200g salted butter, cut into cubes
½ jar capers
¼ cup chopped flat leaf parsley
2. Clams
1 kg baby clams
olive oil for frying
1 garlic clove
1 red chilli, deseeded and finely chopped
1 french shallot
1 glass white wine
½ bunch of chives finely chopped
4. Mudcrab
Juice of ½ lemon
5 peppercorns
3 bay leaves
3 T salt
Instructions
Roast Garlic Aioli
Preheat the oven to 180C.
Place the garlic cloves on a baking sheet lined with greaseproof paper, drizzle with olive oil.
Place in the oven and roast for 12-15 minutes until tender then remove from the oven and allow to cool for 10 minutes.
Remove the skins from the garlic cloves. Put the garlic in a food processor along with the egg yolks, white vinegar, dijon, salt and pepper and blitz until well combined.
With the processor still running slowly pour in the olive oil in a steady stream until the mixture is thick and creamy.
Serve right away or store in an airtight container in the fridge.
Gremolata
Chop the parsley up finely then either using a mortar and pestle or a food processor, combine all the ingredients adding more olive oil as needed until it is your desired consistency.
Preparation of Seafood
1. Mussels
Combine the butter, capers and parsley and 1 garlic clove and mix well.
Heat the olive oil in a large saucepan on medium heat. Add the rest of the garlic, shallots and chilli and saute for 1 -2 minutes. Turn the heat up high and deglaze the pan by adding the wine.
Allow the wine to come to the boil for 30 seconds before adding the mussels.
Put a lid on the pan and cook for 5-7 minutes until or until all the mussels open. Discard any that do not open.
Add knobs of the butter to the hot mussels and serve right away with gremolata.
2 Clams
Lightly saute the garlic, chilli and shallot in a large saucepan on medium heat.
Turn the heat up high and deglaze the pan with the wine.
Add the clams and cover with a lid.
Cook for 4-5 minutes or until they have all opened. Discard any that do not open.
Sprinkle some chopped chives over and serve right away.
3. Prawns
Cooked prawns are readily available but if you want to cook your own I suggest leaving the shells on. Bring 2.5 L of water to the boil with 2 T sea salt. Add the prawns and cook for 4 minutes or until they float to the top then plunge into cold water to stop the cooking process.
4 Mudcrab
Bring a large pot of water to the boil.
Add the lemon juice, salt, bay leaves and peppercorns.
Place the crab in the boiling water and cook for 12-15 minutes depending on the size.
Once cooked, remove from the boiling water and plunge into a slurry of ice water.
Serve warm or cold.
There was an issue loading your timed LeadBox™. Please check plugin settings.
There was an issue loading your exit LeadBox™. Please check plugin settings.
Related Posts via Categories