Paleo Grain Free Caprese Crostini with Basil Oil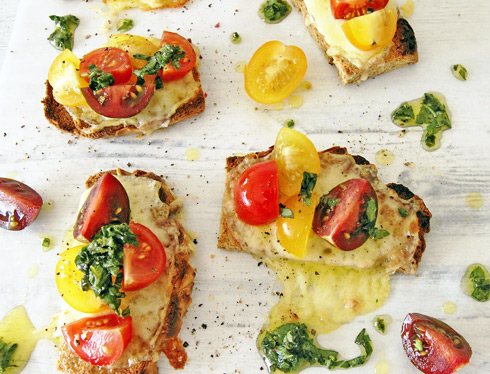 1.5 cups almond meal
1 cup ground linseeds
2 tsp dried thyme
2 tsp onion flakes
1 tsp paprika
1 tsp sea salt
2T apple cider vinegar
8 eggs
4 tsp baking powder
½ cup water
¼ cup coconut oil
Heat oven to 180C
Heat the coconut oil by placing the jar in a bowl of hot water and use 1 tsp to grease a bread tin
Combine all the dry ingredients in a food processor until evenly mixed.
Add the apple cider vinegar, coconut oil and water and combine.
Add all the eggs at once and pulse until they are all incorporated but taking care not to over manipulate them.
Pour the mixture into your greased bread tin and bake in the oven for 30 minutes until a toothpick comes out clean.
Remove from the oven and cool for 5 minutes before turning out and cooling on a wire rack.
Leave to cool completely before cutting as it will crumble.
Recipe by
The Luminous Kitchen
at http://theluminouskitchen.com/paleo-grain-free-caprese-crostini-basil-oil/