Grain Free Dark Chocolate Cupcakes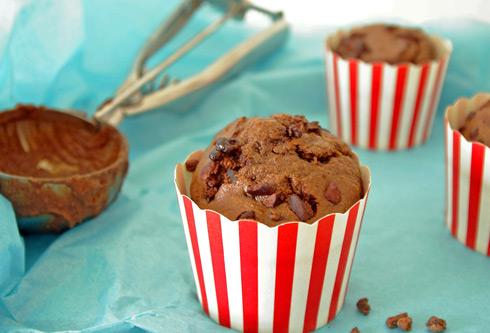 4 eggs
¼ cup maple syrup
1tsp vanilla essence
⅓ cup coconut oil
¼ cup coconut cream
¼ cup coconut flour
½ cup almond meal
⅓ cup cocao powder
1tsp baking powder
¼ tsp sea salt
a handful of choc chips
Set oven to 180C
In your food processor, using a paddle blade, cream the eggs and coconut oil.
Add the maple syrup, coconut milk and vanilla essence.
In a separate bowl sift together the coconut flour, baking powder, almond meal and salt.
Add the sifted dry ingredients to the wet mixture and mix together.
Add the choc chips and mix by hand.
Divide the mixture between 8 cupcake cups and bake in the oven for 18-20 mins
They are ready when a toothpick comes out clean.
Recipe by
The Luminous Kitchen
at http://theluminouskitchen.com/68/