Quinoa and Kale Patties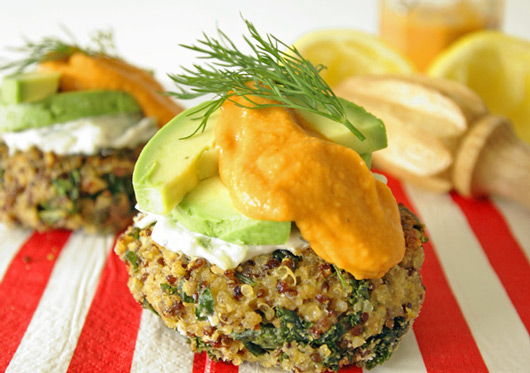 2 cups cooked quinoa
2 T ground Linseeds (+2T for dusting)
3 whole eggs + 1 egg yolk
⅓ cup grated parmesan
zest of 1 lemon
4 stalks of kale
2 cloves of garlic, crushed
2 T coconut oil
sea salt and pepper to taste
Pre heat the oven to 180C
Roughly pick the leaves of kale off the stalks and place in a bowl of boiling water for 30s then drain well.
In a large bowl combine all the ingredients and mix well.
Divide the mixture in thirds then halve each third so you have 6 even balls.
Mold each ball into a pattie shape with your hands.
Coast each side of each pattie in ground linseeds.
Heat a pan until hot then add 2 T coconut oil.
Fry each pattie until browned on each side then bake in the oven for 20 minutes until cooked through.
Serve with lemon wedges, tzatziki, humus or any dip you choose.