Red Thai Chicken Lasagne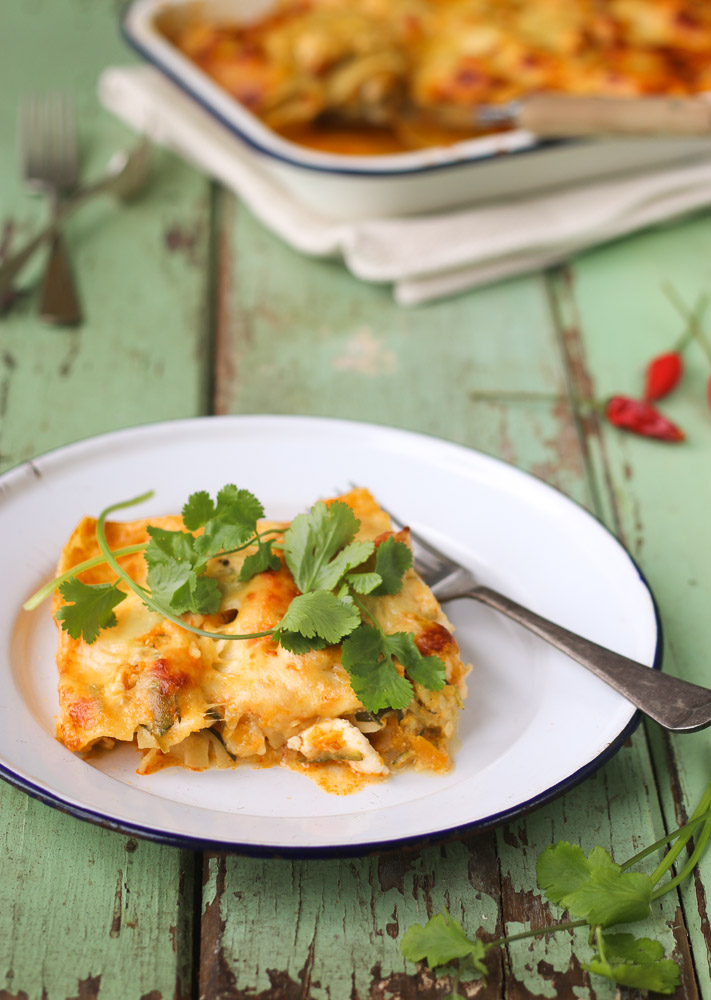 2 organic chicken breasts cut into small pieces
2 Tbls Red Thai Curry paste
1 can coconut cream
juice of 1 lime
1 tsp fish sauce
½ butternut grated
6 lasagna sheets ( gluten free lasagna sheets work really well here too)
1 cup shredded mozzarella
Fresh coriander to serve
Preheat the oven to 180C
Heat a large pan on the stovetop and add the red curry paste. Stir it in the pan with a wooden spoon, releasing all the flavors, then add the coconut cream.
Bring to the boil, then reduce the heat to a simmer. Squeeze in the lime juice and fish sauce and allow to simmer for 5 minutes.
Add the chicken and grated butternut and give it a good stir.
Cook until the chicken is cooked through and the butternut is soft. If the sauce reduces too much add a little water. ( you want it to be quite runny)
Begin to layer the lasagna in a lasagna dish starting with the chicken mixture on the bottom then the lasagna sheets. You should be able to have 3 layers of lasagna sheets and 4 layers of chicken with the top layer being the chicken mixture. Then top with mozzarella and place the dish in the oven, uncovered.
Bake for 30 minutes or until the cheese has browned nicely, then turn the oven off and allow to sit for 15 minutes before serving so that the pasta sheets soak up excess liquid.
Serve with fresh coriander.